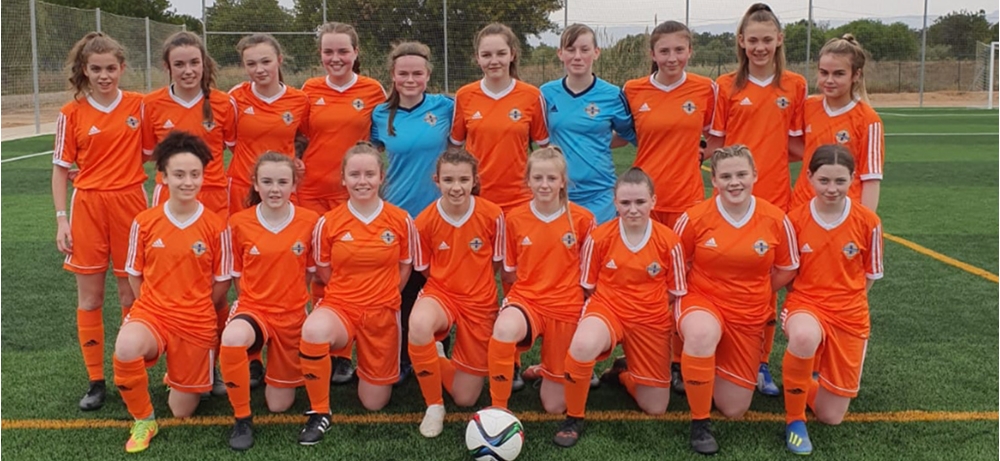 The U15 girls development side went undefeated through three games in Spain as they took part in the 
Bob Docherty Tournament. 
The first of three games seen the U15 side run out 3-0 winners against Gibraltar. Caiomhe Mulholland scored twice with Aimee Neal also finding the net. 
In the next game the girls faced Scotland with Aimee Neal scoring again along with teammate Cara Tumelty to end normal time at 2-2. Northern Ireland went on to beat Scotland 4-2 on penalties. 
The following day brought another victory for Northern Ireland on penalties, this time against Wales as they finished the tournament undefeated. Ella Haughey and Erin Montgomery scored a goal each to end the game at 2-2 before Northern Ireland were eventually victorious 4-3 on penalties. 
Squad list
Rachael Norney (gk)
Kaia Moore 
Ella Haughey 
Aimee Neal 
Grace McKimm 
Helen Parker 
Ellie Mae Dickson 
Caiomhe Mulholland 
Cara Tumelty 
Erin Montgomery 
Eve Reilly 
Erin McAllister (gk)
Sophie O'Rawe 
Sarah Tweedie 
Keri Halliday 
Sienna Leckey 
Lucy Johnston 
Naomi McLaughlin