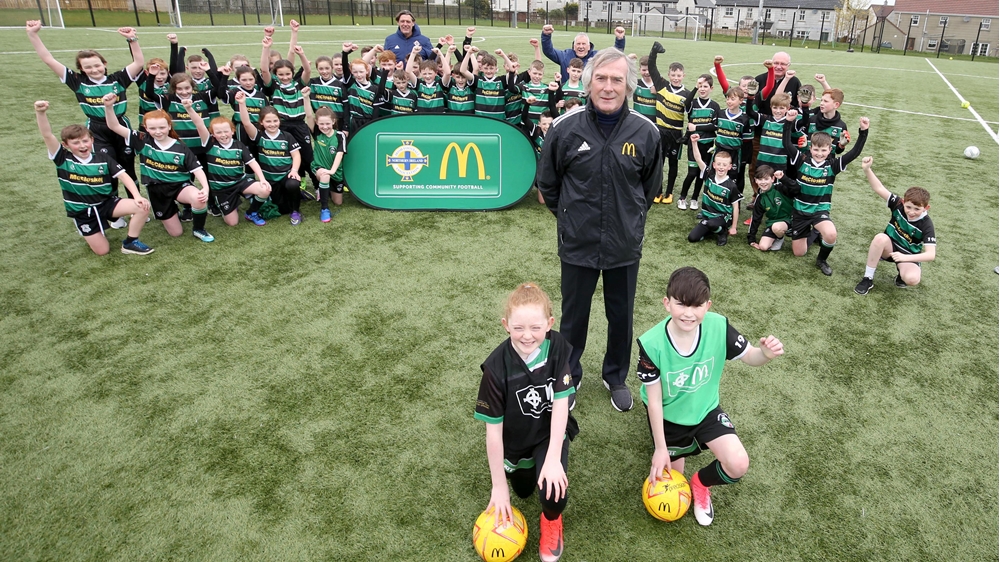 Football legend Pat Jennings and well-known personalities joined the McDonald's Grassroots Football Awards launch tour as it visited communities and football clubs across Northern Ireland to announce details of the 2019 programme, which is seeking to honour the unsung heroes of grassroots football.

Football fans, club members and children turned out to meet ambassadors Pat Jennings, David Healy, Pete Snodden and Denise Watson on the two-day tour which visited clubs in Dungiven, Coleraine, Hillsborough, Larne and Belfast. 

The IFA and McDonald's brought their ambassadors on the road to announce that nominations for the 2019 awards were open and to encourage grassroots volunteers and football clubs to enter the awards which celebrate their impact within local communities.

As the longest standing supporter of grassroots football in the UK, McDonald's champions those selfless volunteers who enable children and young adults to play and enjoy grassroots football in a safe, friendly and welcoming environment regardless of age, gender or disability.

Leading the call for nominations in Northern Ireland and urging communities to honour local heroes, McDonald's Football Ambassador Pat Jennings said: "The 2019 awards provide a great opportunity to recognise the fantastic work of people in local clubs across Northern Ireland who are involved in the grassroots game. 

"Every year I'm humbled by the unstinting dedication, passion and enthusiasm of our grassroots volunteers and I can't think of a better way to celebrate their achievements. 

"Everyone involved in grassroots football is eligible to be nominated, from coaches to club secretaries, so please make sure you nominate a local hero and give them the opportunity to be recognised at our awards ceremony at Belfast City Hall later this year."

The Grassroots Football Awards are a core pillar of the McDonald's four-year partnership with UK football associations which runs until 2022. The overall programme will deliver five million hours of fun, inclusivity, introductory coaching sessions and family events to local communities, reaching 500,000 children across the UK. 

At a local level the Fun Football programme will see 250,000 hours of coaching, games and fun delivered to more than 75,000 children from across Northern Ireland, introducing thousands of children aged 5-11 to football for the first time. 

This year's grassroots awards will celebrate and honour club of the year, coach of the year, mum of the year, volunteer of the year, young volunteer of the year and inclusivity award.
Nominations for the IFA & McDonald's Grassroots Football Awards are now open. To nominate a grassroots football club or volunteer please click here