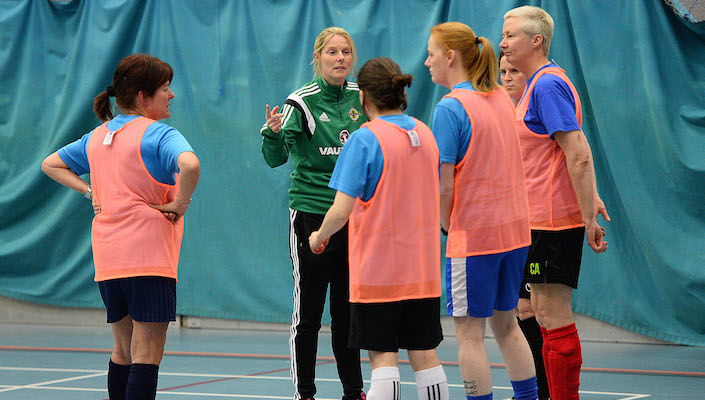 In an ongoing Q&A series we are highlighting the people who make the Irish Football Association tick.
Name: Gail Redmond.
Job title: Women's Domestic Manager, Irish FA Foundation.
How long have you worked for the Irish FA?
10 years.
What's your role within the association/foundation?
Previously I have worked in every area of girls' and women's football within the Irish FA, from primary schools coach and Excellence Programme co-ordinator for County Antrim to Women's National Team A squad and WU19 assistant coach. Currently I am part of a team that's focus is improving all aspects of the girls' and women's game in Northern Ireland.
Describe a typical working day for you?
My week can be very varied. Today I was at a Back in the Game festival, NIWFA (Northern Ireland Women's FA) committee meeting and a session run as part of the Shooting Stars programme for girls aged four to seven. Typically I will attend a lot of meetings each day.
What's the best thing about your job? 
Getting to work in football every day.
 What are the biggest challenges you face in your role? 
Establishing new targets that will benefit the girls' and women's game and providing a framework to strengthen women's clubs and grow participation. 
Where did you work – and in what roles – before you joined the Irish FA? 
Prior to joining the Irish FA in 2009 I worked for six years at the University of Southern Mississippi as the head soccer coach.  
Are you involved in any other sports?
Growing up I played hockey and ran for East Antrim Harriers but currently I am not involved in any other sports.
Where did your love of football emanate from?
My family. I come from a passionate footballing family.
What qualifications do you have? 
UEFA A Licence.
Who (if anyone) has provided inspiration for you during your career?
I have been so blessed to have many people in my life that have shaped my career to date, from my biggest source of encouragement, my dad, to my first football coach, Liz Dickson. I am extremely grateful for all the people that have had an influence on me as a person and in my football career.
Any other interesting facts about you that we should know?
I love to travel and have been to around 35 different countries to date but I constantly get lost going to airports and in airports. And I always tend to forget important things.