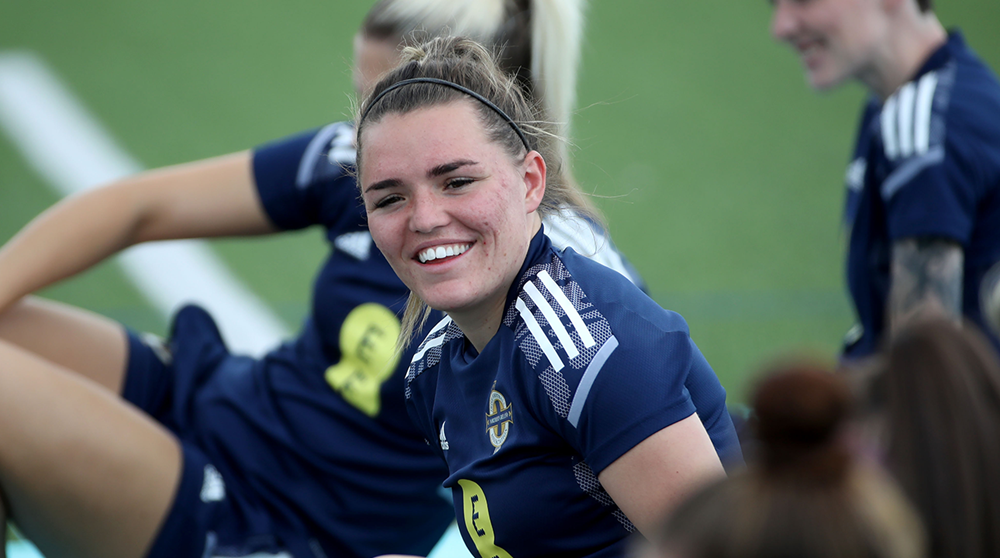 Northern Ireland are ready to go at UEFA Women's Euro.
That's the view of defender Abbie Magee who told a packed press conference in Southampton that she and her team-mates are 'better, sharper, fitter' as they prepare for their tournament opener against Norway on Thursday evening.
Kenny Shiels' squad touched down on the south coast of England on Monday and are readying themselves for what will be an historic clash against the Norwegians at St Mary's.
It's a first-ever tournament for the girls in green and white and despite being drawn in a group that also includes Austria and hosts England, Magee says they are relishing the challenge.
"Every team here deserves to be here," she said. "Every game is going to be hard but we played them before. We just have prepare to our best and hopefully we can show how good we really are against them."
The Cliftonville full-back described the past 24 hours as surreal as they embrace the added attention that comes with being at Europe's top table.
"We obviously had our suits, and we looked the part when we set off for the airport and the cameras were there too.
"We got on the plane and when we landed I think it really hit us that we're at a major tournament. Obviously we can't shirk away from what we're here for; to play matches and we want to put on good performances in every game.
"At this moment in time we're ready to go. It's a perfect time for us to be at this tournament and show what we're about. Everybody has got better, sharper, fitter and that's exactly what we wanted from the past six months and we're all together. We know each other and we know what way we're going to play."