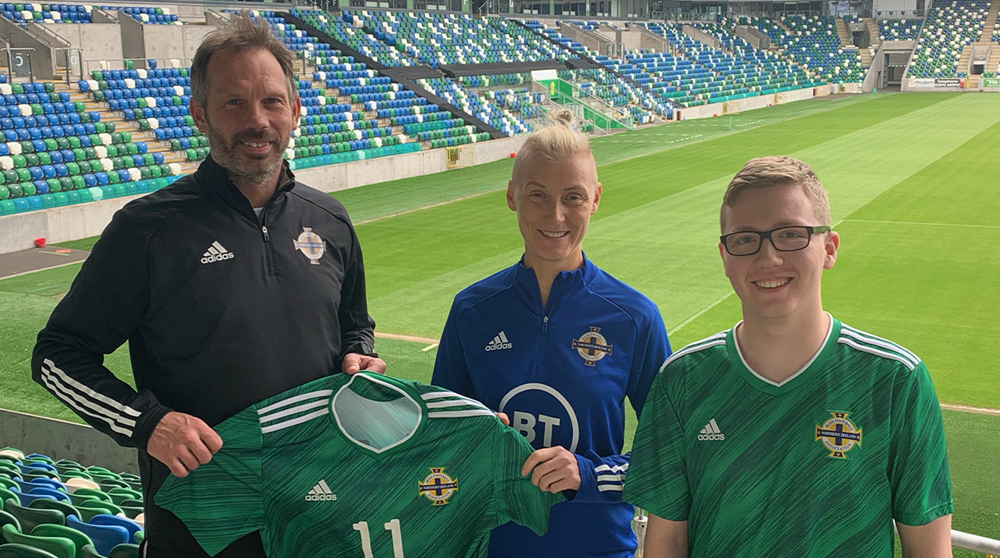 A special donation of official Northern Ireland kit has been delivered to the Northern Ireland Transplant Football team before they compete in the Westfield Health British Transplant Games in England later this month.
"We are delighted to be supporting this special group of players," said Alan Crooks, the Irish FA's Development Manager for Disability Football. 
"As a staff team we wanted to help with something tangible and felt this was the best way to do it."
The Games, which have been running for more than 40 years, are billed as a 'celebration of life'. They are organised on behalf of Transplant Sport whose aim is to raise awareness of the need for organ donation, to encourage transplant recipients to lead active lifestyles and to show appreciation for, and remember, donors and their families. This year's edition of the Games starts in Leeds on 28 July.
The competition takes place in different host cities every summer and features teams from hospitals across the UK. The four-day event attracts around 1000 transplant athletes and more than 1700 supporters. The Games also help to increase the awareness of the Anthony Nolan charity and its need for blood stem cells and bone marrow donation.
Transplant survivors, including children as young as five, can compete in more than 25 sports - and many athletes also go on to compete at the larger World Transplant Games.
"Everyone right across the Irish FA wishes the squad all the best and trust they will have a wonderful experience," said Crooks. "It's a tournament that demonstrates that football really is for all."
Find out more here - https://www.britishtransplantgames.co.uk/​