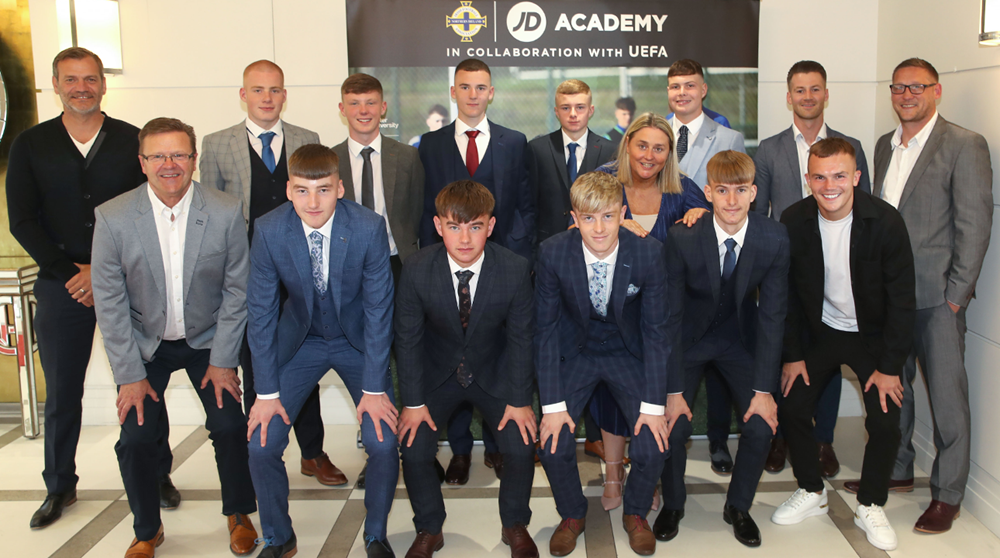 A special awards dinner was held at Belfast's Crowne Plaza this week for the graduation of this year's Irish FA's JD Academy and a caps presentation to Northern Ireland's Victory Shield team.
Head of the academy Andy Waterworth led proceedings and was joined on stage by Irish FA president Conrad Kirkwood and chief executive Patrick Nelson with ex-internationals Aaron Hughes and Roy Carroll as well as the players' friends and family attending the event.
"It was a fantastic day," said Waterworth. "It was a moment to recognise and celebrate two crucial aspects for our boys' elite youth pathway; our Victory Shield team and the JD Academy. We have players leaving the academy and going into full-time football both in Great Britain and Northern Ireland which is ultimately what the Academy structure is in place to do.  
"I am always able to remind the boys if they keep working hard they could be the next Brodie Spencer, Trai Hume, Ethan Galbraith all of whom have come through the pathway before them."
Full list of players: 
Mason Munn (VS cap), Rangers
Jack Wilkins (VS cap & Academy), Linfield
Joshua Briggs (VS cap & Academy), Linfield
Brendan Hamilton (VS cap & Academy), Aberdeen
Bobby Harvey (VS cap & Academy)
Theo McToal (VS cap), Glentoran
Adhamh Patton (VS cap), Derry City
Kyle McCloskey (VS cap), Derry City
Ollie Crowe (VS cap), Derry City
Cormac Austin (VS cap & Academy), Crystal Palace
Francis Turley (VS cap & Academy), Glentoran
Ryan Donnelly (VS cap), Dungannon Swifts
Ben McGonigle (VS cap), Derry City
Kieran Morrison (VS cap), Liverpool
Jay McDowell (VS cap & Academy), Linfield
Ciaran O'Hara (VS cap), Derry City
Jay Dalzell (VS cap), Ards
Rhys Walsh (VS cap), Glentoran
Luca Doherty (VS cap & Academy), Derry City
Rhys Lyttle (Academy), Linfield
Jack Patterson (Academy), Everton
Lorcan Donnelly (Academy), Glentoran
Darragh McCloskey (Academy), Derry City
Blaine McClure (VS cap), Linfield
Callum Burnside (VS cap), Linfield
Ethan Sousa (Academy), Newry