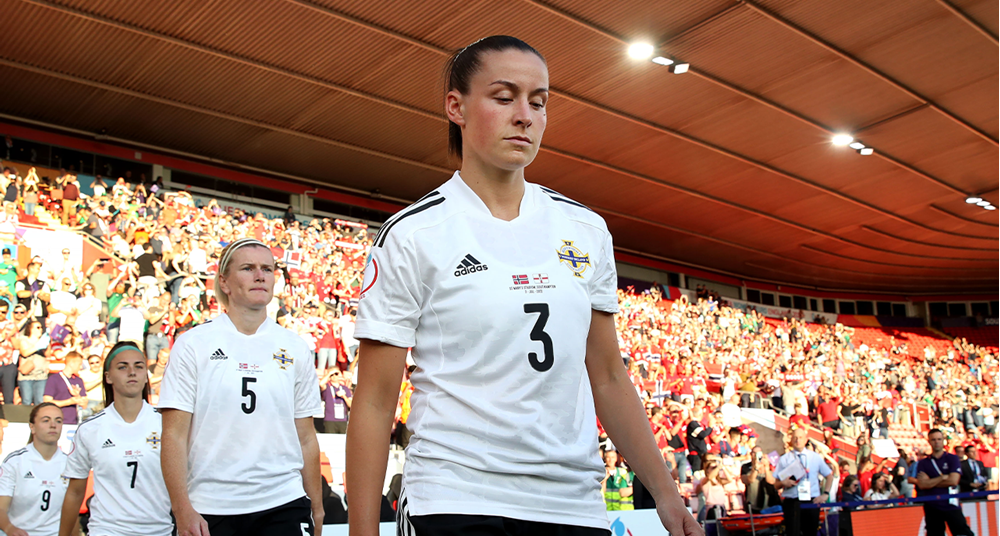 Demi Vance has promised Northern Ireland will battle hard against England tomorrow night despite being massive underdogs going in to the UEFA Women's Euro 2022 clash at St Mary's Stadium in Southampton.
Tournament hosts England have already effectively won Group A after a 1-0 win against Austria and an 8-0 hammering of Norway – and progressed to the quarter-finals.
In contrast Northern Ireland are going home on Saturday after their third and final group game. They lost 4-1 to the Norwegians in their opener and then 2-0 to the Austrians.
But Northern Ireland defender/midfielder Vance says Kenny Shiels' squad are not daunted by the task that lies ahead against the high flying Lionesses (8pm start).
She told UEFA TV: "We just need to prepare for England the same way we would for any other game. I know that they won 8-0 against Norway and showed that they are a world class team, but we're no strangers to England either.
"We're trying to learn from our mistakes in the first two games. We need to make mistakes against these world class teams to get better.
"The only way we'll be able to do that is by qualifying for these tournaments, so even though we're out of the Euros we'll go into the England game and fight like we would in any other game. We'll fight for every ball and stick together as a team and give the best possible account of ourselves."
Vance also revealed she has loved every minute of being involved in a major tournament.
"It's been unbelievable. Most of us in the group, including myself, felt for a long time that it would be impossible for us to qualify for the Euros, but we made it happen. So we're relishing every moment of it," she said.
And the defender/midfielder spoke about the legacy of Northern Ireland's first appearance at a major tournament.
She said: "The fact that we've qualified for this tournament will only help drive women's football further in Northern Ireland. With the support we're given, women's football is only going to grow. We still have a long way to go, but hopefully we'll be able to keep making the steps to get there.
"I think that we've inspired a generation of girls and boys who want to play football now, and I think that that was the big aim for us. We've put so much work into getting this far, and Kenny and the staff have put so much work into it. That's all we want to do.
"We want to be able to drive women's football, and now these girls and boys have people that they can look up to and say, 'I want to be like them. I want to be a professional footballer'. I think that's something that a lot of us didn't have when we were younger, and I think that it's very good that they have now."
Vance was also full of praise for the fans who have made their way to Southampton to cheer Shiels' side on in the group games.
She said: "I think it's no secret that everybody says our fans are the best fans in the world. The support has been unbelievable, and we can't thank them enough for travelling across (from Northern Ireland) for these three games. People have made this their holiday to come and support us, and it's maybe something that we never thought would happen.
"People are walking down the streets wearing Northern Ireland tops now, and they're over here to support us. I think maybe it was a little bit surreal at the very start, but now it's something that we want to get used to. We want to get used to qualifying for major tournaments and playing against these top class teams and to keep growing together."