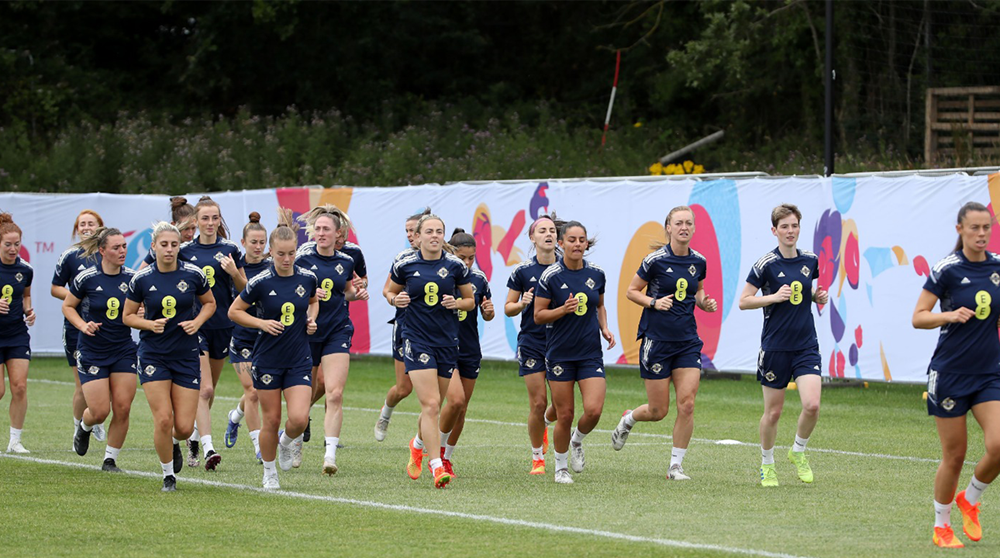 The Director of Women's Football at the Irish FA, Angela Platt, has expressed pride on the eve of Northern Ireland's first ever game at a major women's tournament as Kenny Shiels' team prepare to take on Norway tomorrow night at UEFA Women's Euro 2022.
"This is an historic and seminal moment. We have settled well into our base camp in Southampton and we are looking forward to the Green and White Army joining us in the coming days," she said.
Platt further pointed out: "No-one thought that Northern Ireland would be competing at this tournament. That demonstrates the hard work and dedication this team, both on and off the pitch, have put in.
"We follow the trailblazers that have gone before us, paving the way and breaking those barriers down, however this is an opportunity not only to look back but to profile those ambassadors and role models in this team in order to inspire the next generation to pull on the famous green jersey."
Irish FA Chief Executive Patrick Nelson and Irish FA President Conrad Kirkwood also praised Kenny Shiels' history-making team.
Nelson said: "This will be a special day in the history of football in Northern Ireland. Only four times before have we kicked off in a major tournament and all of the previous occasions featured our senior men's team.
"The spotlight is rightfully on our senior women's team as they take to the pitch in Southampton as one of only 16 qualifiers for the UEFA Women's Euro finals. The interest in their achievements so far has been nothing short of phenomenal.
"Our role is to translate the goodwill and buzz built up at elite level to the grassroots. As an association we will work to ensure the structures are in place so that our clubs, and their players, can flourish and this journey can continue on when we land back in Northern Ireland, whenever that may be."
Kirkwood, who was re-elected as association president last month, said the team's participation at the Women's Euros was an opportunity to create moments which will change the narrative from how far women's football has come to how far girls' and women's football can go now in Northern Ireland.
"The chances for the legacy are huge and must be realised. The team is a credit to our wee country and tomorrow night really will be a momentous occasion," he said.
Angela Platt further said: "We know the eyes of the world will be on us and we don't take that responsibility lightly.
"We all look back fondly to our male counterparts when they qualified for the UEFA Euro in France in 2016. They dared to dream but now, in 2022, for this team it is a new dream. It is our campaign strapline and couldn't be more fitting. We know the team is inspiring young girls and boys to get involved at grassroots level, from a diversity of communities, which I am so proud to see."