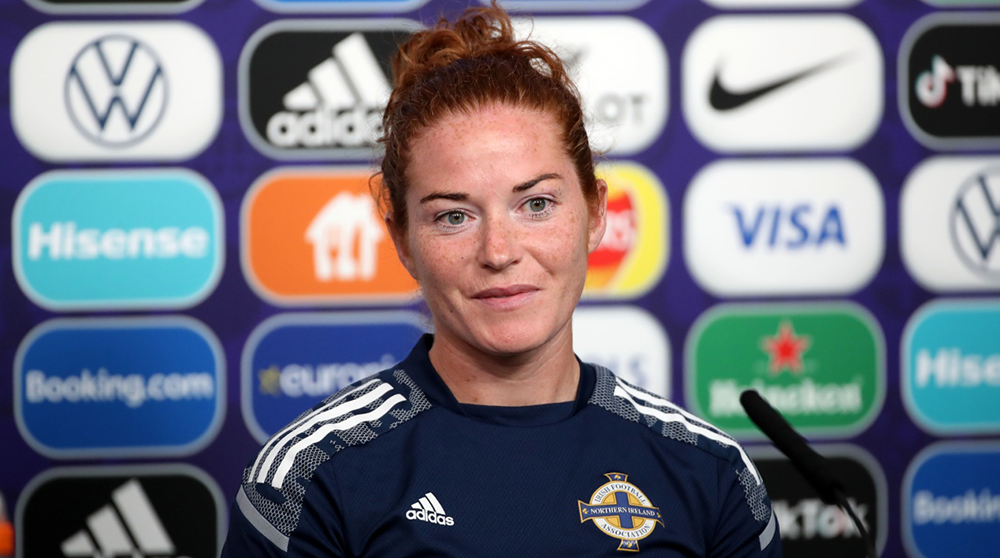 Northern Ireland skipper Marissa Callaghan says tomorrow night's UEFA Women's Euro clash against Austria will be for sidelined forward Simone Magill.
The striker sustained an anterior cruciate ligament injury in Friday's 4-1 Group A defeat to Norway and Callaghan said the squad has been rallying around her.
"The girls have been heartbroken for Simone," she said. "She's a really important player for us and, not only that, she's a close friend. We always speak about this family unit we have and there were a lot of tears for her but it's a massive incentive for us to go out and get a result for her.
"The good thing for Simone is that she has team-mates who have been through it; and we'll all get her through it. Tomorrow night it will be for Simone."
Callaghan admitted nerves played a part in the early stages against Norway but is relishing the prospect of facing Austria for third time since October when the two sides meet at St Mary's tomorrow evening (5pm).
"It's an incredible thing to be here at a major tournament and the big thing for us is that we won't be as nervous. I think nerves showed in the first 30 minutes of the Norway game I suppose with the hype around it and the fire in the belly that gets you going," she said.
"That's all out of the way and this is the second game against a team that we're really familiar with. We've played Austria twice in the last eight months (in World Cup qualifying), so we'll go out and we'll enjoy the game and hopefully get a result.
"In the first game we were seconds away from getting a result and unfortunately we switched off in the last minutes and they equalised. In the away game it was our own mistakes that cost us over there. Hopefully, third time lucky, we can go out and get a result."