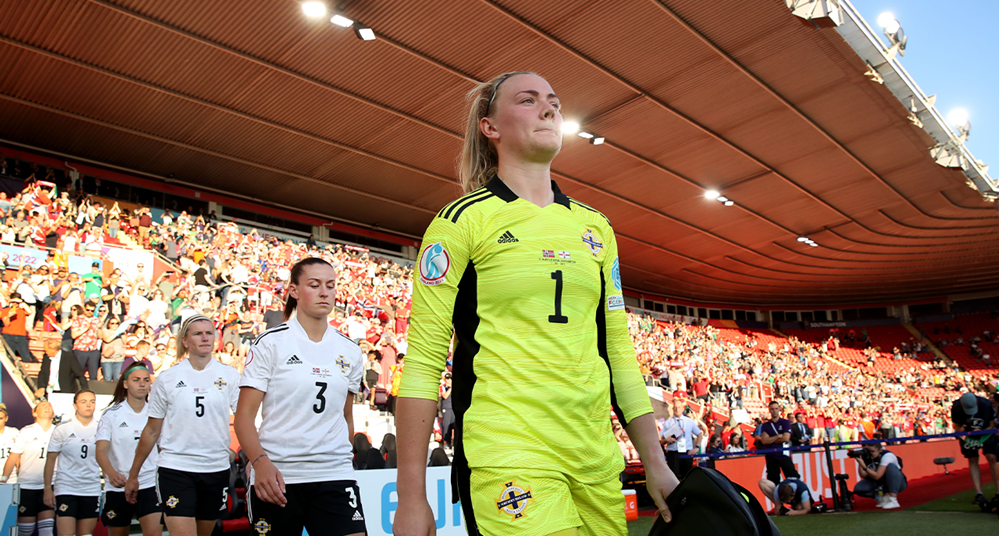 It's do or die for Northern Ireland's senior women's team when they face Austria in their second match at UEFA Women's Euro 2022 this afternoon.
Both sides go in to the game at St Mary's Stadium in Southampton knowing that, realistically, nothing less than a win will keep their Euro dreams alive.
Northern Ireland lost their opening Group A match 4-1 to Norway, while the Austrians were narrowly beaten 1-0 by tournament hosts England.
Over the past year Kenny Shiels' side have drawn and lost against the Austrians in Women's World Cup qualifiers.
We want to go out and prove that we can get a result against them
But the Northern Ireland players believe the 2-2 draw in Belfast and 3-1 defeat in Wiener-Neustadt will hold them in good stead going in to today's clash.
Goalkeeper Jackie Burns revealed the team were "immensely disappointed" when they drew with the Austrians in Belfast last October and then lost to them in the reverse fixture in April - and they believe they can put things right in today's game.
"We want to go out and prove that we can get a result against them. It's going to be competitive but with the crowd behind us, as they were in the Norway game, we believe we can get a result," she said.
The injury to Simone Magill, who has been ruled out of the tournament after injuring the anterior cruciate ligament in her left knee during Thursday's game against the Norwegians, is also helping to galvanise the team.
Defender/midfielder Demi Vance said the players were determined to get a result against the Austrians to help lift Simone's spirits.
She further said: "It's must-win for us, but over the past few years that has always been our mentality."
Kenny Shiels told the media he believes Austria are "very much on a par" with England and Norway. He insisted any one of the three could win the tournament.
But he stressed: "We will adapt and prepare; everything we do is gauged towards getting a victory. If we don't get a victory, we want to get at least a draw, but we won't be thinking like that.
"If we go out with an attitude of 'let's try and draw this match', it's not going to be us, it's not what Northern Ireland are. We go out to try and win every match. It's achievable."
MORE: Callaghan: Austria game will be for Simone Magill
The Austrian squad features a spine of experienced players who all have 80 caps or more – and many of them were in the squad that reached the semi-finals of the Women's Euros in 2017.
They include Arsenal goalkeeper Manuela Zinsberger, team captain Viktoria Schnaderbeck, who plays for Tottenham Hotspur in the WSL, and Eintracht Frankfurt defenders Verena Hanshaw and Virginia Kirchberger.
Bayern Munich duo Carina Wenninger and Sarah Zadrazil along with Eintracht midfielder Laura Feiersinger are important cogs in the machine as well alongside Sarah Puntigam of Montpellier.
And they have a star striker in Hoffenheim's Nicole Billa, who has notched more than 40 goals at international level.