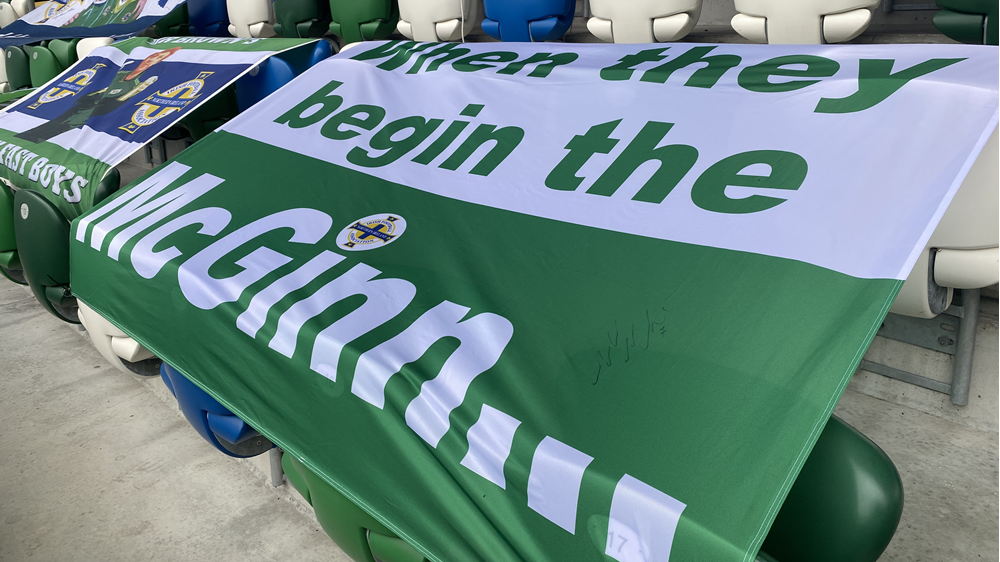 Dozens of Northern Ireland fans have answered a call to show support for the team by displaying their flags at the National Football Stadium at Windsor Park.
The UEFA Nations League match against Norway at the stadium tonight is, of course, being played behind closed doors due to Covid-19 restrictions.
However, in a bid to bring some colour to the occasion and to enable fans to show support for Ian Baraclough's boys, the Irish FA invited supporters to display their flags. And as a result more than 60 flags have been laid out across the West Stand.
The flags were handled and unfurled by Irish FA staff who followed strict protocols.
Norrie Clarke, the association's ticketing manager, said: "We were really keen to make sure that supporters felt connected to the team and involved in the game and by letting them drop off flags for display in the stadium I think we've achieved that in a small way. 
"It's an opportunity for the fans to feel like they're there when they can't be. We've also asked supporters to send on their good luck messages. Some of these were displayed on the big screen for the players to see at training and they will also be displayed ahead of the game tonight.
"The response from fans has been amazing. Northern Ireland are so lucky to have such a passionate and dedicated fan base in the Green and White Army and it's obvious how much days like these mean to the supporters."
Meanwhile, Donald the Alien, a distinctive plastic chap who travels far and wide to support the team, has asked if he can sit among the flags.
Michael Roberts, Donald the Alien's dad, who has been going to home matches since 1987 but is unable to attend tonight's Nations League game due to Covid restrictions, has even provided Donald with a face mask to ensure he gets a seat.