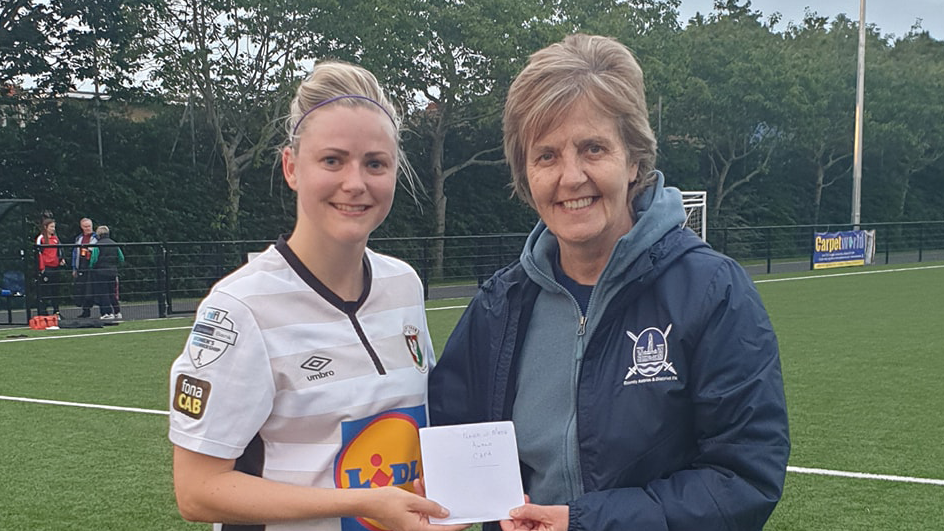 Cheryl Lamont this week became the first female president of a football association in Northern Ireland she says she's raring to get started. 
She was named president of the County Antrim and District FA on Tuesday evening and has described it as an 'honour' to serve the association in her new role over the course of the next two years. 
The Co. Antrim FA is the largest of the four regional associations in Northern Ireland and is affiliated to the Irish FA. 
My appointment as president is something I will seek to do to the best of my ability for the benefit of all involved in the sport of football and I hope my experience will also help promote and influence the growth of women's game
Speaking about her appointment, Ms Lamont said: "I am happy to say I feel very honoured and privileged to take on the role of president for the next two years and realise I am following on from many others who have served the County Antrim FA very well. 
"I will be seeking to work hard in my role to further the ongoing work in the association alongside the officers of the council, including vice-chair Brian Adams, treasurer Michael Wilson and secretary Adam Simpson."
Ms. Lamont, a member of the Irish FA's Council and UEFA's Women's Committee, is a familiar figure in local football.  At Glentoran Women she became Northern Ireland's most successful women's coach. She also plied her trade as a player with the east Belfast outfit. She is now aiming to continue inspiring women to participate in all areas of football. 
"I have always had a love and interest in football as a child, young woman at university and throughout my professional career as a social worker. I have been a player, coach, manager and now administrator both in local level and on UEFA Women's committee.
"As the first female president in the County Antrim FA's history I trust it will inspire and promote other women's interests in becoming involved in all aspects of the game as well."
She is a role model off the pitch as well, having previously been honoured by the Queen for her work outside football.
With women's football going from strength to strength, she hopes her appointment can help fuel further growth.
"My appointment as president is something I will seek to do to the best of my ability for the benefit of all involved in the sport of football and I hope my experience will also help promote and influence the growth of women's game." 
Image: Cheryl Lamont (right) pictured with Glentoran and Northern Ireland senior women's international Nadene Caldwell