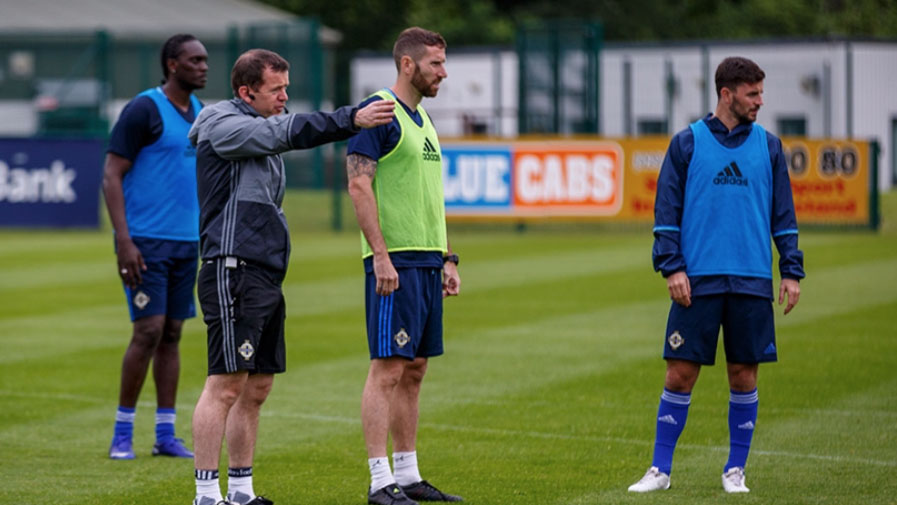 The Irish FA Foundation and the association's Coach Education department are set to roll out several coaching courses across Northern Ireland this autumn.
The foundation's Grassroots team will be delivering a UEFA C Diploma course at three separate venues, while members of the Coach Education department are set to deliver the new Irish FA National Coaching Certificate at nine locations.
The new UEFA C Diploma course was first run at The Dub (Queen's Sport) in south Belfast last month, with 31 candidates taking part.
The UEFA-accredited course prepares coaches for small sided games, looking at principles of play in 5v5, 7v7 and 9v9 formats. 
As part of the course coaches are grouped in to a 'community of practice' where they go back to their clubs and share ideas, and then a coach education tutor will visit each participant for a 9v9 assessment.
It is being run again at The Dub later this month - from 20-25 September - and then at Londonderry Park in Newtownards (25-30 October) and UU Jordanstown (29 November-4 December). Places on the courses can be booked here.
The National Coaching Certificate, meanwhile, has replaced what was the Irish FA Level 1 course.
It aims to develop coaches within the grassroots game, focusing on facilitating and organising coaching sessions, learning the key fundamentals of coaching in football, health and safety, safeguarding, the importance of reflection and coaching personality. 

The coaching award has been split into two modules: coaching children and young people (5-12) under the supervision of a more qualified coach in the grassroots game in Northern Ireland; facilitating coaching sessions and supporting a more qualified coach within the coaching of adults in the grassroots game.
NCC courses are being staged at the Mid-Ulster Sports Arena in Cookstown later this month, Playball at Stormont, Clarendon in Belfast, Ballysally (Coleraine), Ballymacash Rangers (Lisburn) and Banbridge's Havelock Park in October, and at Clarendon, Londonderry Park in Newtownards and Omagh Leisure Centre in November.
An online Grassroots Introduction to Coaching course is also currently available. This course and NCC courses can be booked online at www.irishfacoaching.com/courses.