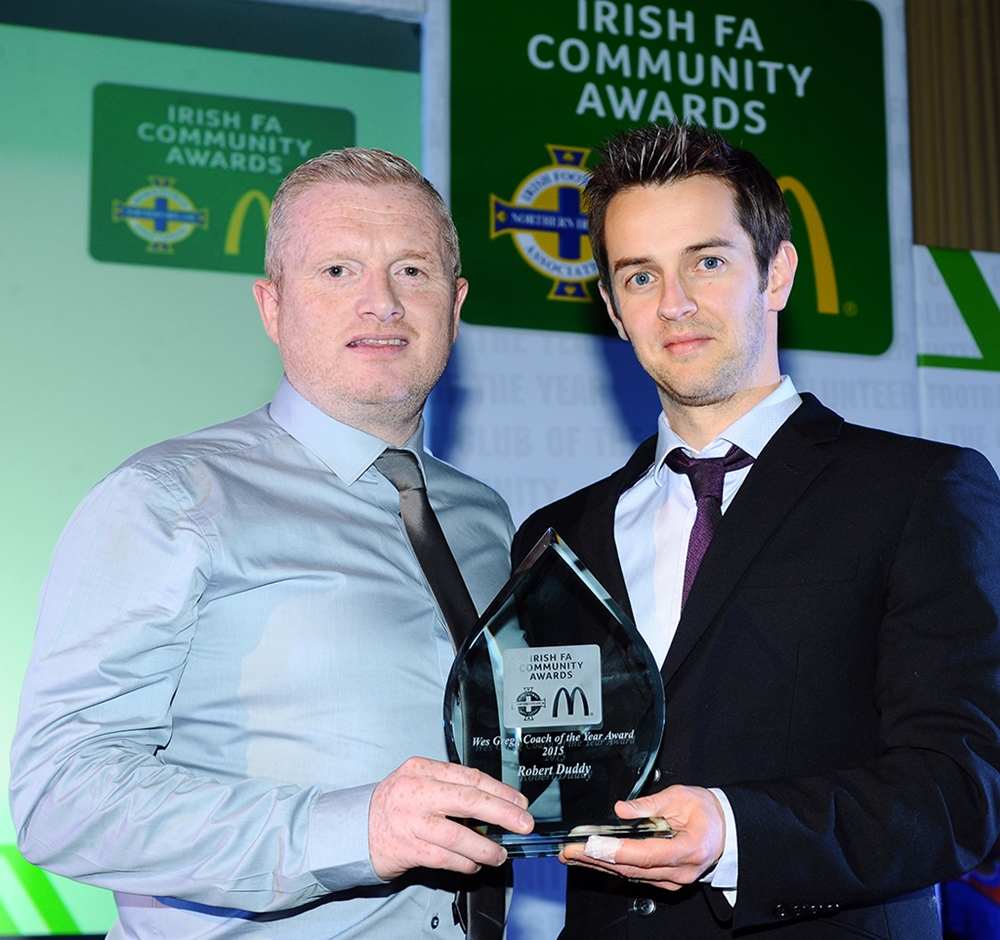 The winners have some incredible stories of commitment to grassroots football and they were able to share them on the evening.
Congratulations to all the nominees and thank you to all the volunteers across our country.
Young Volunteer of the Year: Adam McCauley
Adam started his grassroots volunteer journey with the newly formed IFA Football for All Youth Forum which seeks to spread the Football For All message across Northern Ireland.
The Football for All Youth Forum recently debated issues such as the new National Stadium, and how they can ensure a fun, safe and inclusive atmosphere for all members of the community to enjoy Northern Ireland home international matches. This has given Adam development, knowledge and awareness around key life skills and learnings.
Adam assisted with mini workshops with over 100 school children during a very successful UEFA Grassroots Day in Derry/Londonderry and has just received his 200 hours volunteer certificate from the IFA.
McDonald's Mum of the Year Award – Dawn Murray
Dawn really is a football mad mum!
Being a mum of three and working full time managing two GP surgeries sounds busy enough; but Dawn truly goes above and beyond for grassroots football in Northern Ireland. Dawn spends hours at her beloved Killyleagh Football Club; there's barely a role that she doesn't occupy; she's Manager and Coach of the Killyleagh Ladies and U15 girls football teams, club fundraiser, Fixtures Secretary, Child Protection Officer, and also the club's bartender!
Dawn never loses her drive to make football fun in her local community; a great mum and a fantastic community ambassador; Dawn Murray McDonald's 2015 Mum of the Year Award Winner.
Disability Football Club of the Year Award: Lakeland Special Olympics
Established in 2006, Lakeland Special Olympics Club meets twice a week at the Lakeland Forum in Enniskillen. The club offers athletics and football training sessions each week; with up to 40 footballers attending coaching sessions on a Saturday morning at Lakeland Forum.
The club is for both males and females, aged 7 and over and caters for those with learning disabilities.
The club has enjoyed a successful year both on and off the pitch with increasing membership and volunteer numbers. They really are an inspirational success story for Enniskillen and beyond.
Accredited club of the Year: Trojans YCG
Situated in the Creggan area of Derry; Trojans Youth & Community Group is a shining example of a well-structured grassroots club. Catering for over 150 playing members, Trojans provide football opportunities for children of all ages and also have two adult football teams playing at junior and intermediate level.
In 2013 Trojans Youth & Community Group celebrated 75 years in existence and received the Irish FA and McDonald's Club Accreditation Award. They have since progressed to the Club Excellence Mark in 2015 and remain committed to serving their local community by providing excellent football training programmes.
Female Volunteer of the Year: Clare Charles from Mid Ulster Ladies FC
Clare is an inspiration to the young ladies who attend her coaching sessions at Mid Ulster Ladies FC. Claire is always there with a helping hand giving advice and guidance to both junior and senior football teams. If you want something or just need someone to talk to Clare is always there; she is a mother figure to juniors and seniors and is loved by all at Mid Ulster Ladies FC.
Coach of the Year - Robert Duddy
Robert took over coaching duties at Harryville Homers three years ago. His coaching qualities brought immediate success and ended a 15 year barren spell at the club.
In Robert's first season the Homers lifted the league title, drawing only one match and winning every other league fixture that season. The Club also reached the Irish Junior Cup final, narrowly missing out on additional silverware.
Last season the Homers completed the clean sweep winning all six competitions that they entered. They went the entire league campaign undefeated and won back to back league titles.
This current season Homers are again undefeated in the league and are also into the last eight of the Irish Junior Cup.
Robert's coaching techniques have transformed the Harryville Homers from being a good side that always did well in cup competitions to being the current best junior football team in Northern Ireland.
The Respect Award - Basil Marshall
Basil Marshall is Chairman of the Fermanagh & Western Referees Association, a referee coach at junior and intermediate level and a member of the Referees Committee in Northern Ireland.
Basil is extremely committed to developing young refereeing talent both within his home County of Fermanagh but also nationally and has mentored many current senior referees and assistant referees at Irish League level.
Basil is committed and enthusiastic; he is at the heart of everything good about refereeing. He lives refereeing and only has one agenda – giving referees a chance to meet their potential.
Football In The Community Award - Craigavon City FC
John established Craigavon City FC in 2007 after identifying a lack of football teams in the Craigavon area for children. In the seven years he's been at the helm the club has grown significantly to the point that they have teams ranging from under-7s to under-19s plus two senior teams and also a ladies team in the NIWFA league.
John has worked tirelessly both on and off the pitch and was a key contributor in securing a state-of-the-art 3g football pitch which is used by all sections of the Craigavon community.
In addition the Club promotes ethnic diversity from all over the borough and is welcoming to all sections of the community regardless of ability.
The club continues to build, yet without him CCFC as their known would never have existed and the young people of Craigavon would have nowhere to go to be inspired and welcomed.
Volunteer of the Year Award - Keith Hall from Mid Ulster GDC and Robin Martin from Moyola FC
In a surprise development, the IFA presented two Volunteer Awards to Keith Hall from Mid Ulster Games Development Centre and Robin Martin from Moyola FA.
The IFA's rationale was that both demonstrated the power of volunteering across grassroots football in Northern Ireland. Without Robin Martin's contribution there would be no Moyola Park FA as he plays so many roles including coaching, committee and organisational duties. Keith Hall is also an invaluable volunteer whose commitment and sacrifices ensure that clubs across Mid Ulster have places to play and innovative programmes such as McDonalds Games Centres.
The People's Award for Outstanding Contribution to Football: Eugene McGeehan
Eugene has demonstrated a lifelong commitment to grassroots football. The North Belfast man established Santos Football Club in 1969 and has been a driving force behind its growth and success for over 45 years.
Eugene established the football club to help provide a safe and secure footballing environment for children living through one of Belfast's darkest periods.
Now aged 73, Eugene is still actively coaching and mentoring Santos Football Club's young players, he recently established an under 6 year old football team within the club and runs a number of Saturday teams. Eugene believes passionately that football provides vital life skills for young people helping to build confidence and maturity.
Eugene has been creating sporting pathways from education to club participation for over 40 years and he has played a key role in guiding children and young adults to long term involvement in sport.