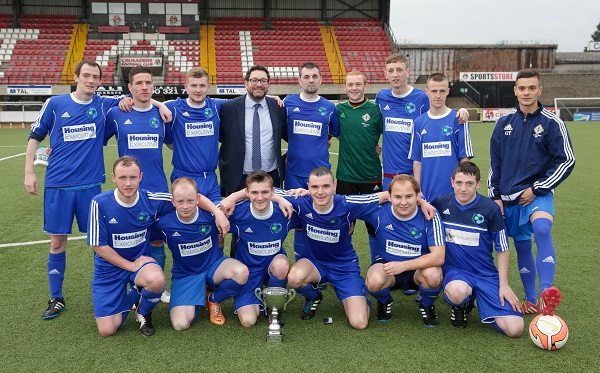 A group of young men, who have experienced homelessness, represented Northern Ireland in the Celtic Challenge Cup on Wednesday the 4th of November at Seaview in Belfast.
In a fantastic game Northern Ireland won 5-4. Scotland, who were 5-2 down at one point, fought hard to find another two goals and make it a very tight game. But in the end Northern Ireland kept their composure and deservedly won the inaugural Celtic Challenge Cup.
This new project uses the power of football to inspire homeless people to make changes in their lives. Alongside the football they offer support around housing, employability, addictions and more.
Justin McMinn team manager said; 'I am so excited to start the new Street Soccer Academy. We provide weekly football training and matches but it's also about changing lives; helping people with housing, employment and more'.
Aidan Byrne, Manager of Hosford Homelessness service said; 'Homelessness sadly remains a serious problem in Northern Ireland. That's why it's brilliant to see the great work being done by Street Soccer NI and the great outcomes they are having. I've been working in the homelessness sector for ten years and this is certainly one of the most exciting projects I've seen'.
About the experience, squad member, Gerard Toner from Belfast, said:''Early this year something terrible happened in my life and I had lost hope and my ambition. I had plans to take my own life and I had even tried to do so. Street Soccer has given me a new perspective on life and the hope to get ahead in life. Ive now got my own house and im linked in with Gems employability service and I hope to get full time employment'.
Team-mate, Darren Spiers said: 'Being involved has given me the motivation to get a house and a job. Last month I applied for jobs and got three interviews. I was successful and now have a job which I love. I'm now planning on getting my own home and getting ahead in in my job'.
Irish FA Director of Football Development, Michael Boyd, added: "We are very proud to support this project. It is a project which is saving and transforming lives for some of the most marginalized people in Northern Ireland".
The project is run by Street Soccer NI who works with homeless people and other marginalised groups through the medium of football. Its principal partners are Hosford (homelessness service of East Belfast Mission) and the Irish FA. The team Kit has been sponsored by Northern Ireland Housing.