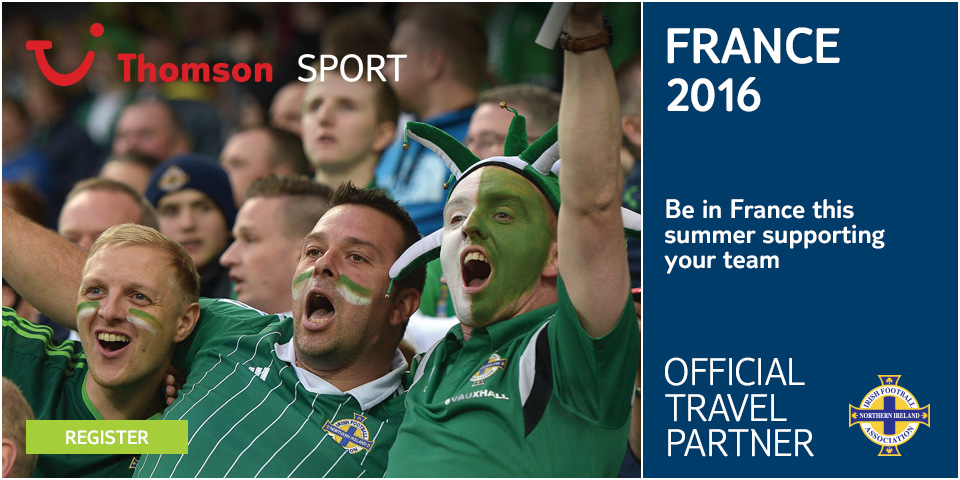 With unprecedented numbers expected to make the trip to the Championship, Thomson Sport, who will become the IFA's Official Travel Partner, will offer a range of options for Northern Ireland supporters, including day-return as well as flight and extended accommodation packages.
The draw for the finals takes place on 12th December. Once the cities where Northern Ireland will be playing are known, information on travel options will be communicated to supporters.
Travel packages with tickets will not be available through Thomson Sport. The IFA is currently working with UEFA on a priority-based ticket allocation for the finals based on purchases made throughout the qualifying campaign. The window for applying for tickets opens on 14th December.
Thomson Sport will offer a money-back guarantee if fans find a travel package cheaper or do not secure a match ticket.
Oonagh O'Reilly, Director of Sales and Marketing at the IFA, said: "With Northern Ireland having qualified for a major tournament for the first time in 30 years, it was important to work with an experienced travel partner that would offer a first-class service to the many thousands of supporters hoping to make the trip to France.
"Thomson Sport, the industry-leader, fits that bill and I have no doubt that they will provide flexible, affordable packages, enabling many of our fantastic fans to see the team at the finals next summer."
Contact Details for Travel Information: Call 0845 4856271 / www.thomsonsport.com
Official Euro 2016 Travel Packages: http://bit.ly/1NPwU0s