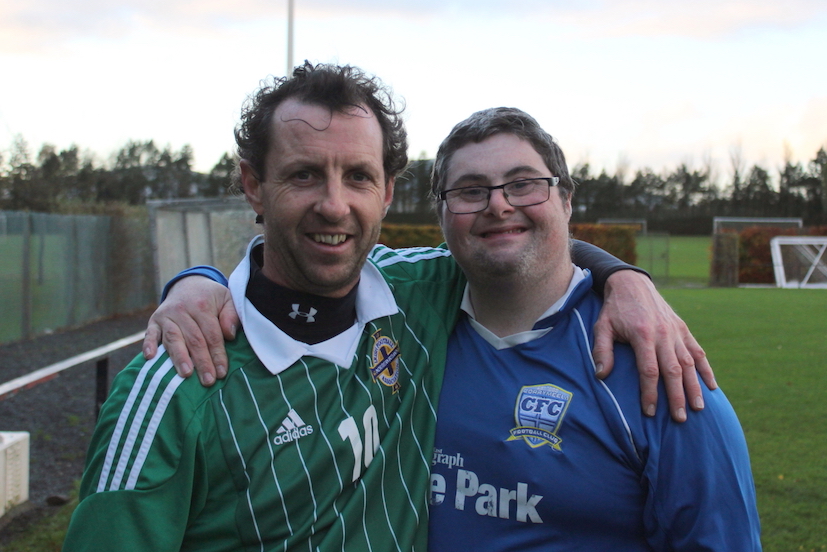 Corrymeela's fiftieth anniversary is a special occasion when you consider the positive impact they've had on our local communities in a cross community voluntary basis.
The Corrymela organisation have fifty years of experience working with over eleven thousand people per year. They work alongside fractured communities and groups who are finding their relationships difficult, as well as addressing relational, societal, structural and power dynamics work.
Considering the amount of rainfall pre twenty-four hours the main stadium pitch was in excellent condition enabling both teams to entertain.
The IFA's veteran's started the brighter of the two teams and within twenty minutes were two goals up through Sam Wright and a twenty-five metre curler from Charlie Lewsley.
Northern Ireland missed a great opportunity to go three goals up then Corrymeela broke to score and were back in it.
The lifeline gave Corrymeela the confidence to push on which they did to great effect and grabbed an equaliser soon after.
With everyone thinking the old diplomatic result was inevitable up popped Paul Cullen with three minutes left on the clock to fire home a bullet header from eight metres to give the Ifa's Northern Ireland veteran's a three two deserved victory.
The main victories today were Corrymeela's 50th celebration; the friendship and partnership with the countries govern body's veteran's team and the performance of young Brendan up front for Corrymeela.
Sean Pettas, Project Co-ordinator of Corrymeela was delighted with the outcomes. Sean commented; "We would like to thank the IFA veterans for a fantastic match and their kindness for participating in our pre and post-match activities. We have certainly forged a great bond of friendship now."
The IFA's director of football Michael Boyd commented on the event; "It was great that we were able to assist you in your celebrations and that Seamus & Mark were able to bring one of our veteran teams down to play you."
"We appreciate the community work that you carry out and again football hopefully played its part."
The IFA Veterans teams play at the age groups of over; 40's, 45's, 50's and 55's. We are currently in a busy schedule of matches, events and trips both home and abroad.
Anyone interested in their programme can contact NI Veterans chairman Seamus Heath at: seamus.heath@irishfa.com or Tel: 07515062882