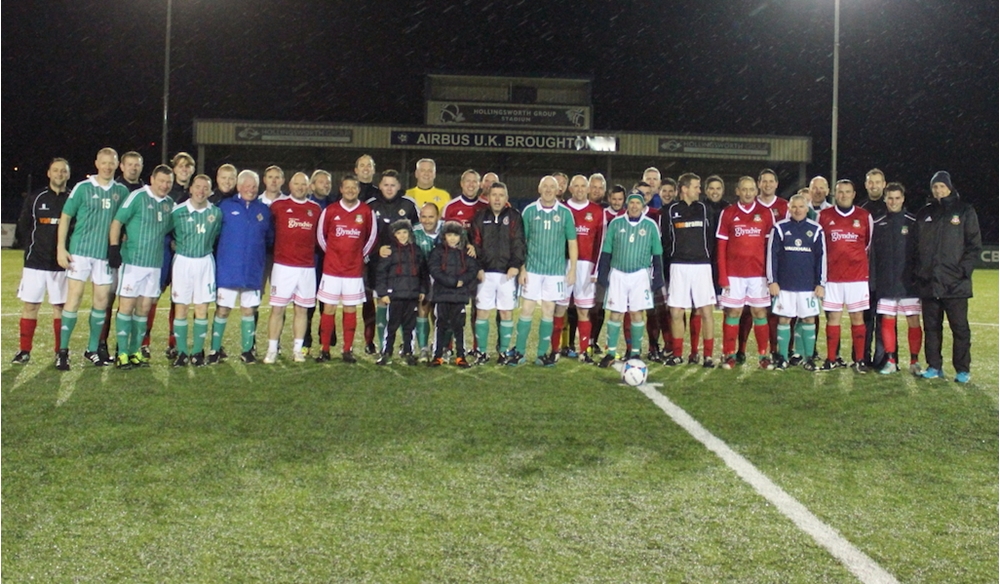 The tour started with a game against Wrexham legends at the immaculate ground of Welsh Premier League club, Airbus.
Wrexham's 20-man squad, managed by former Wrexham, Liverpool and Chelsea star Joey Jones, included; Steve Wadkin, Karl Connolly, Mickey Thomas, Lee Jones, Wayne Philips, and Gareth Owen to name a few.
The wintery night started slowly as the weather was not kind but soon both teams found their feet and the conditions settled.
Northern Ireland seemed a little over awed in the opening ten minutes as the Wrexham boys sprayed passes all over the pitch both long and short.
Soon after Northern Ireland got their short passing going which created some half chances but were unable to convert.
On the half hour mark Northern Ireland got the breakthrough they deserved when a delightful cross from ex Lisburn Distillery and Knockbreda player Paul McCleave, found the head of Paul Cullen who made no mistake with a deft header from eight yards out.
Northern Ireland grew in confidence and really came into the game with a solid performance from Marty Tabb at the back, Ian Hamilton pulling the strings in midfield and the tireless running of Angus McCullough up front.
Both teams rang the changes at half-time but Northern Ireland maintained their one goal lead.
Wrexham certainly came out brighter in the second half with both Karl Connolly and Lee Jones close to forcing an equaliser.
Northern Ireland were gifted an opportunity when the referee awarded them a penalty which the normally reliable Paul McCleave couldn't convert as the Welsh goalkeeper dived to his left to push the ball round the post.
The game ended 1-0 to Northern Ireland which on the balance of play was a creditable victory for the boys in Green.
The three-day tour continued with visits to Wrexham's training ground, Goodison Park and Turf Moor where the group watched a Premier League match, Championship match and several youth matches from U8 to U18.
Highlights of the tour included seeing Everton put on a fantastic performance against Aston Villa, Burnley FC's hospitality, observing the different levels of development at all the age groups and for Roy Keane to take a keen interest on our veterans programme.
Northern Ireland's veteran's football chairman Seamus Heath was delighted with the outcome of the tour. Seamus commented; "The trip certainly fulfilled everyone's expectations. To witness from our game to U8 academy football and a Premier League game certainly covered the whole spectrum. From seven to seventy at different settings was incredible to see."
Veterans football would like to thank Wrexham's Andy Davies and our own Ben Heath who's professional organising and running of a packed programme was appreciated by all who travelled.
Veterans football continues to grow beyond belief and has a packed 2016 programme in place.
Anyone interested in any of our over 40's, 45's, 50's or 55 squads can find out more from our associations RGDO Seamus Heath at: seamus.heath@irishfa.com or call: 07515062882