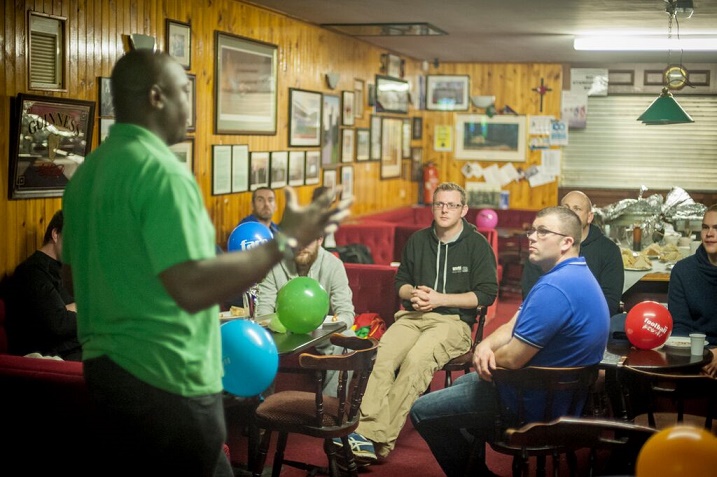 Now in its 11th year, the annual event which aims to embrace and celebrate cultural diversity whilst tackling racism through football, proved to be another great success with representation from 9 different nationalities, including Iran, Zimbabwe, Germany, Sudan, Romania, Nigeria and South Africa.
In beautiful autumnal conditions, the tournament was played in a competitive but friendly spirit, with some real flair and skill on display, resulting in a tight contest which produced some great individual and team goals. With a number of new players involved for the first time, friendships were already being established on the pitch and this carried through to the post-match educational workshop event, facilitated by World United Club Ambassador, Reginald Vellem.
Reginald spoke on a range of topics, including of his upbringing in Zimbabwe, about settling in Northern Ireland and the pros and cons that that involved. In tandem with the theme of FARE (Football Against Racism Europe), Reginald spoke passionately about his involvement with World United and the opportunities and friendships that have developed from this. Kingsley Burrows, a South African player at the tournament, also praised the competition and highlighted that everybody involved should be proud as there is no other team in the whole of Northern Ireland has such a unique mix of nationality, race and religion as World United.
World United Chairman Paul Moffett commented on the event: "On behalf of the World United Committee, coaching staff and players I would like to thank FARE for their kind allocation of funding which enabled the first inaugural FARE Unity Cup competition to take place. The event was a great success and surpassed all our expectations. World United`s logo is "fun, friendship and football" (placed in that order) and the day was filled in abundance on all three accounts. The inspiring and uplifting day consisted of a challenge match followed by anti-racist workshop and a spread of excellent refreshments.
He continued: ''The game was played out between two teams – A World United Select and an International Select including players from nine different nations. The International Select came out on top and lifted the cup but more importantly the game was participated demonstrating all the good aspects of respect, fairness, tolerance and inclusiveness. Well done everyone. At the end of the day we brought together new people who made many new friends and all departed with a smile on their faces asking when the next games would be. I also thank Brantwood FC for offering all their facilities to World United and thanks also goes to the Irish Football Association for supplying the Referee and Photographer. However the main appreciation must go to FARE for the financial support and I hope we can build a long and lasting relationship with FARE in the future. Many thanks."