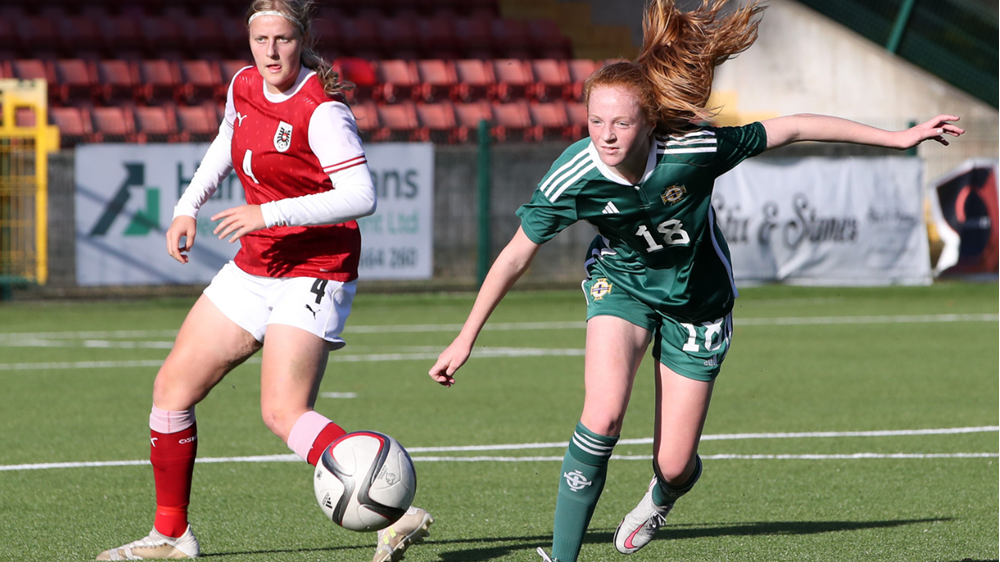 Northern Ireland's Women's Under-17 team are set to face current European champions France in a friendly next week.
The French, who won the U17 Women's Euros back in May, will be taking on the girls in green and white at Seaview on Wednesday (13 September). The game is scheduled to kick off at 3pm and there's free entry to the match.
It will be Gail Redmond's first game in charge of the team since she was appointed WU17s and WU19s boss back in April.
Redmond, who managed the Northern Ireland senior women's team on an interim basis for the friendlies against Scotland and Czechia in July, has chosen a 20-strong squad for a training camp in Belfast next week which includes the encounter against the French.
The friendly for the WU17s is a preparation game ahead of them competing in League A in the first round of qualifiers for the 2023-24 edition of the WU17 European Championship.
Striker Gracie Conway (pictured), who featured for the WU17s in Euro qualifiers last autumn, will be joined this time by sister and clubmate Daisy, who operates in defence and has previously played for the Northern Ireland WU16s development team. Both play their club football with Lisburn Rangers.
Others included this time who featured for the WU17s back in March are Linfield Ladies pair Mia Moore and Rhianna Breen plus Darcie McNeill (Crusaders Strikers).
Almost half of the panel played for a Northern Ireland WU16 development side at this year's SuperCupNI tournament. They include Craigavon City defender Anastasija Stanyte, who was voted player of the tournament for the girls' premier section at SuperCupNI.
Redmond said next week's game against the European champions will be a massive test for the team, however she believes it will provide good preparation ahead of the Euro qualifiers in November.
The WU17s are set to face England, Belgium and Hungary in Group A6 this autumn. Hungary will host the League A mini tournament.
In the WU17 competition the team finishing fourth in each of the seven League A groups will be relegated to League B for round two. The teams remaining in League A, and seven teams promoted from League B, will compete next spring for places at next summer's UEFA WU17 Euro tournament in Sweden.
The WU17s were promoted to League A for the 2023-24 WU17 Euro competition after defeating Turkiye (Turkey) in a winner-takes-all game at the end of March.
The qualifier, staged at Manavgat in Antalya Province, saw Northern Ireland earn a 2-0 victory with second half goals from Mia Moore and Rachel McIntyre.
The WU17s had been expecting to face both the Turks and Armenia in League B Group 5 (stage two of WU17 Euro 2023 qualifying), however Armenia withdrew from the competition.
The Northern Ireland WU17s squad for next week's friendly against France is:
Goalkeepers – Abbie Smith (Crusaders Strikers), Zara Maguire (Lisburn Ladies).
Defenders – Niamh Hassan and Caitlyn Carlisle (both Crusaders Strikers), Laurie Bell and Ellen Hampton (both Linfield Ladies), Anastasija Stanyte (Craigavon City), Daisy Conway (Lisburn Rangers).
Midfielders – Kirsten Farley, Rhianna Murphy and Clodagh Maguire (all Glentoran Women), Mia Moore and Zoe Knox (both Linfield Ladies), Darcie McNeill (Crusaders Strikers).
Forwards – Jessica McGuinness and Lucy Kelly (both Crusaders Strikers), Gracie Conway and Sophie Kelly-Bradley (both Lisburn Rangers), Rhianna Breen (Linfield Ladies), Bernie Ferreira (Larne Women).