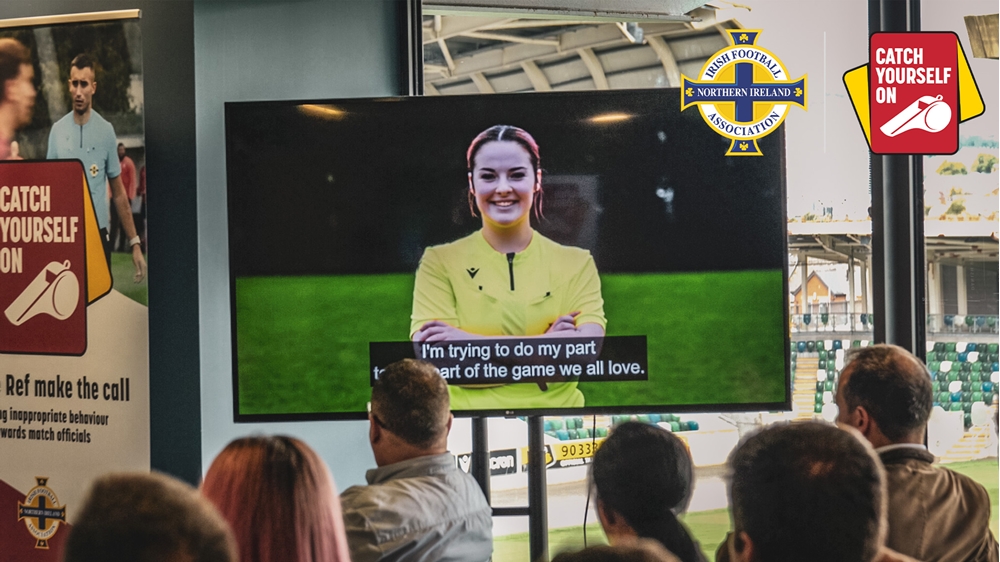 The first meeting to shape the role of a Match Official Liaison Officer (MOLO) has taken place in Belfast.
The Irish FA is to hold workshops and encourage input from clubs and leagues in the coming months before a pilot programme is rolled out in 2024 which will see clubs being able to nominate a MOLO who will act as a single point of contact for support and assistance to appointed match officials at games.
The inaugural meeting brought together expertise both from within the Irish FA and externally to discuss the MOLO role, which is part of the recently launched 'Catch Yourself On' campaign aimed at tackling abusive behaviour towards match officials.
"It is essential that every referee is effectively supported at every level of the local game" said Irish FA Head of Refereeing Mike Riley, who was appointed in August.
"Every Irish FA registered club has an important role to play to provide practical support and assistance to every appointed match official and this crucial element of the 'Catch Yourself On' campaign will help us, alongside the clubs and leagues, shape exactly what that looks like."
'Catch Yourself On' is encouraging players, coaches, club officials and supporters, as well as parents, to think about their behaviour towards referees to eradicate abuse and protect the safety and wellbeing of match officials.
The Irish FA believes 'Catch Yourself On' will kick off a much broader conversation around inappropriate and hostile behaviour at games and generate widespread awareness of the growing issue and its impact on match officials and the local game.