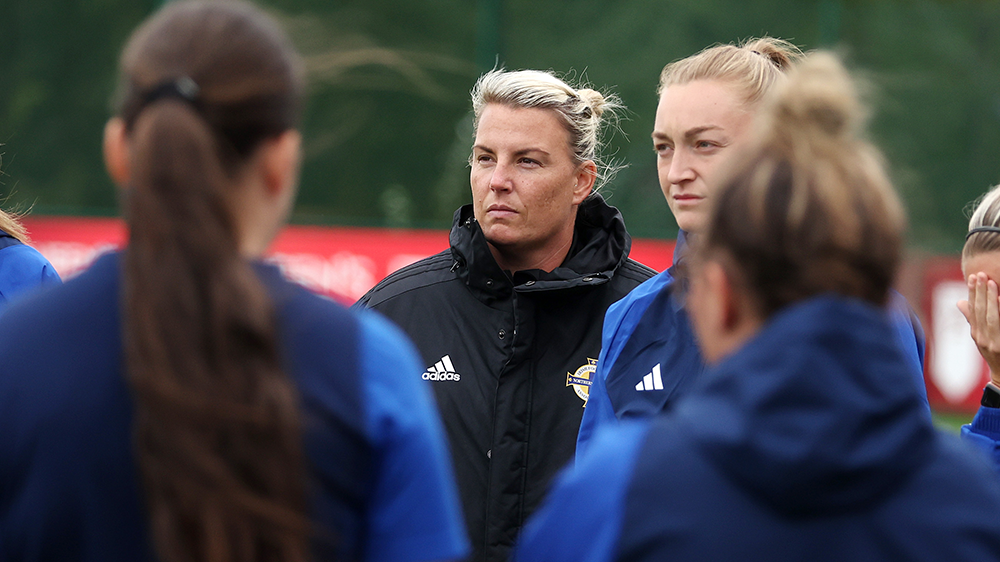 New Northern Ireland Senior Women's manager Tanya Oxtoby is relishing the prospect of taking charge of her opening two matches as the UEFA Women's Nations League curtain-raiser away to Republic of Ireland looms large.
The Australian-born boss is getting to know her new squad of players as they prepare for Saturday's trip to Dublin followed by a home clash with Albania three days later.
Oxtoby, a former assistant to Emma Hayes at Chelsea, was announced as the new manager last month and has set about the task of getting to know her 23-strong playing panel.
She explained: "The first couple of weeks in the job was trying to get to know, and have individual meetings with, all the players. That was important to me, to set out our journey and where we want to go, leading into this camp.
"Everyone is in now and we're getting to know each other. We've had some great training sessions on the pitch and we're really looking forward to the challenge coming up on Saturday.
"I've been telling them what they can expect when they come into camp because, obviously, we don't have a lot of time.  We've been working through the starting point for us and the key focuses. When they came in ready to go, it wasn't a surprise."
Oxtoby described the weekend clash with the Republic – a homecoming match after their participation at the FIFA Women's World Cup – as "a great challenge".
"The Republic of Ireland have come back from a World Cup, so in that respect they're in a position where we want to be, which is competing again at major tournaments," she said. 
"It will be a great challenge for us. From our point of view, we're looking at how we're going to implement our style of play.
"In terms of our processes and assessing that, it will be key as to whether we've been successful or not. Hopefully a result will come along with that, but if it doesn't we'll continue to learn to grow and develop.
"We're only at the very start of our journey and we want to try and kick on and we need to know the areas that we need to improve on to do that."