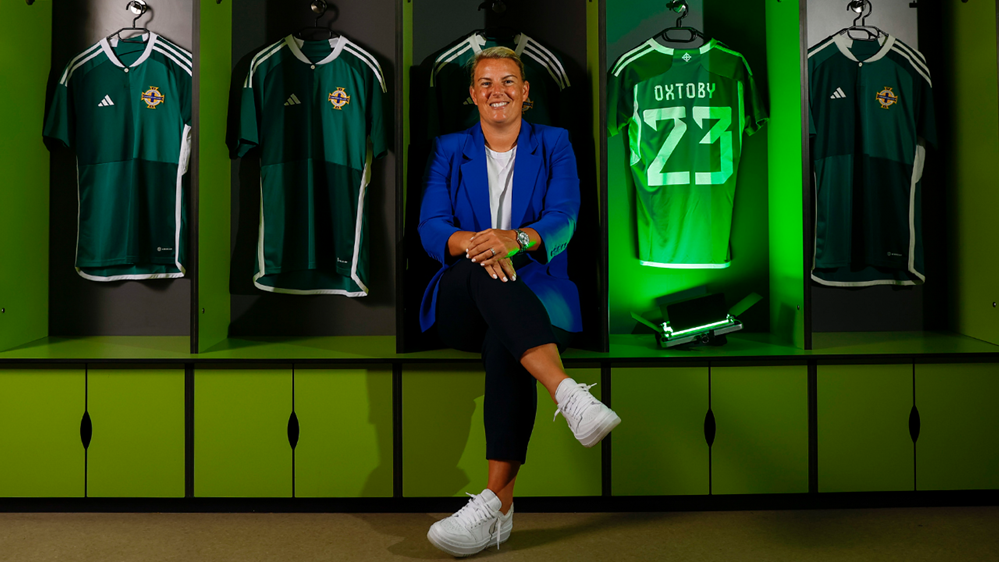 New Northern Ireland senior women's team manager Tanya Oxtoby says she's delighted to be taking up the role.
Oxtoby, who is originally from Australia, signed a four-year contract with the Irish FA in August.
She comes into the post following a stint as assistant coach at Chelsea Women.
In her first interview since taking up the role, the 41-year-old former Bristol City boss said the recent success of the Northern Ireland team has laid a "great foundation" to build on as she looks ahead to the UEFA Women's Nations League campaign which kicks off later this month.
"I'm really excited to be here. It's a fantastic opportunity and when I was speaking to Aaron Hughes and Angela Platt we were so aligned in terms of our values and what we were wanting to do with the squad," she said.
"It's going to be a really, really exciting time. For me, as a manager, I like players to take responsibility, so you'll see tactical flexibility and players making, hopefully, good decisions.
"Our job is to make this squad and the individuals within it as good as they can be and help them reach their potential and be successful along the way. Hopefully you'll see players playing with a smile on their face and the team being successful along the way.
"I had the privilege of seeing the squad play at the Euros and what an amazing story that was."
She believes there is already a solid platform in place to work from.
And she added: "My job is to get the best out of these players and hopefully we can go on a journey together where we are really successful.
"The team's achievements so far have been remarkable. They've had a taste of it now and our job is to try and put processes in place to create an environment where we can continue that success and create more of those magical moments.
"Hopefully what that will do is inspire younger generations, encourage more participation in the sport. We've got a holistic responsibility to the game here and it's our job to make sure we're growing that from the ground up."
Northern Ireland kick off their UEFA Women's Nations League campaign away to the Republic of Ireland on 23 September before welcoming Albania to Seaview on 26 September.