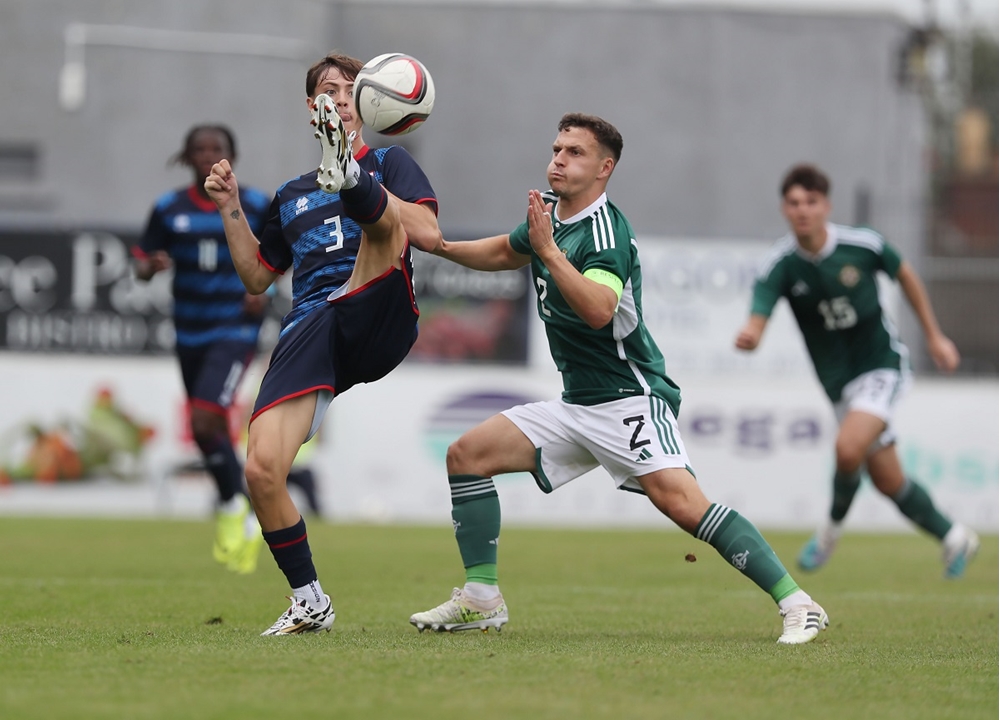 Northern Ireland U21s lost narrowly to Luxembourg in their opening UEFA Under-21 Championship qualifier at Mourneview Park in what was Tommy Wright's first game in charge since his appointment last month.
UEFA Under-21 Euro 2025 Qualifiers - Group F
Scoreline
Northern Ireland U21 0-1 Luxembourg U21
Scorers
Northern Ireland:
Luxembourg: James Rodrigues (13')
Venue
Mourneview Park, Lurgan
Date
Thursday 7 September 2023
Team News
Tommy Wright handed debut appearances to Stephen McMullan, Michael Forbes, Patrick Kelly, Micheal Glynn, Darren Robinson and Callum Marshall as well as appointing Fleetwood Town defender Carl Johnston captain for the game.
How it happened
A cagey opening to proceedings saw neither side display the upper hand but, somewhat out of the blue, Luxembourg moved in front on 13 minutes through James Rodrigues after he knocked home the rebound when Selim Turping's initial effort from the left edge of the area rattled back off the far post.
Northern Ireland might have levelled midway through the first half when Micheal Glynn got himself into a good position in front of goal but was ultimately outmuscled by the Luxembourg defence.
As the game progressed Tommy Wright's side looked the more cohesive unit only to come up against the well organised visitors although the chances did begin to come as more openings were created.
Callum Marshall was unfortunate to just miss out on connecting with a crossed ball from wide on the right while a later driven effort was driven into the side netting after Patrick Kelly had done well to set up the chance.
Half-time: Northern Ireland U21 0-1 Luxembourg U21
Northern Ireland grabbed the early momentum after the break, and this increase in tempo almost produced a 54th minute equaliser when JJ McKiernan's effort from inside the area was pushed around the left post by keeper Eldin Latik at full stretch.
But chances proved to be at something of a premium at either end, although there was a brief flurry with around a quarter-of-an-hour remaining when Kelly ran into the box with his eventual shot on goal being charged down for a corner.
Then, moments after that, Charlie McCann saw a free-kick from outside the area fall just the wrong side of the post.
However, time was running out and other than the occasional half chance neither side looked like unduly troubling the opposition defence.
Northern Ireland are next in action on Tuesday (September 12th) when they travel to Slovakia to face Ukraine.
Full-time: Northern Ireland U21 0-1 Luxembourg U21
Line-ups
Northern Ireland: Stephen McMullan, Darren Robinson, Sam McClelland, Michael Forbes, Micheal Glynn, Carl Johnston, Charlie McCann, Patrick Kelly, JJ McKiernan, Callum Marshall, Chris McKee.
Substitutes: Josh Clarke (not used), Sean Stewart (replaced Micheal Glynn 62'), Terry Devlin (replaced Charlie McCann 78'), Ciaran McGuckin (replaced JJ McKiernan 70'), Jamie McDonnell (replaced Michael Forbes 62'), Ross McCausland (replaced Chris McKee 71'), Craig Farquhar (not used), Charlie Allen (not used), Charlie Lindsay (not used).
Luxembourg: Eldin Latik, Yohann Torres, Massimo Agostinelli, Miguel Goncalves, Franz Sinner, Fabio Lohei, Clayton Irigoyen, Fabio Cerqueira, Diogo de Oliveira, Selim Turping, James Rodrigues.
Substitutes: Hugo Do Rego (not used), Ivan Englaro (replaced Diogo de Oliveira 77'), Irvin Latic (not used), Eric Preljevic (not used), Lucas Correia (replaced James Rodrigues 59'), Noah Rossler (replaced Clayton Irigoyen 90+2'), Viegas Campos (not used), Dylan de Jesus Cardoso (replaced Selim Turping 77'), Hugo Afonso (not used).