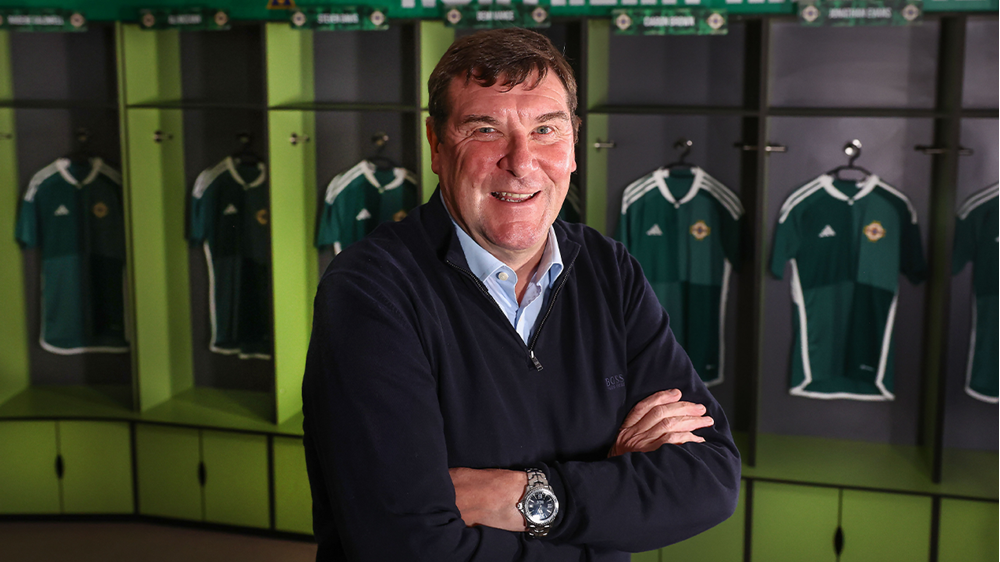 As Tommy Wright embarks on a new venture as Northern Ireland Under-21s boss, the former goalkeeper has been reflecting on his own international career.
The ex-Man City stopper's first game in the U21 hot-seat comes this Thursday (7 September) when his young charges take on their Luxembourg counterparts at Mourneview Park (2pm).
A dyed-in-the-wool Northern Ireland fan, Wright remembers being brought to matches as boy by his father and has memories of standing on the old North Stand terrace watching on as the magical George Best graced the Windsor Park turf.
The Ballyclare man, who turned 60 last month, has picked out three key moments in his international career as his main highlights: his debut in 1989 away to Malta, a memorable display against European champions Germany in Nuremberg in 1996 and being given the honour of wearing the captain's armband against Belgium.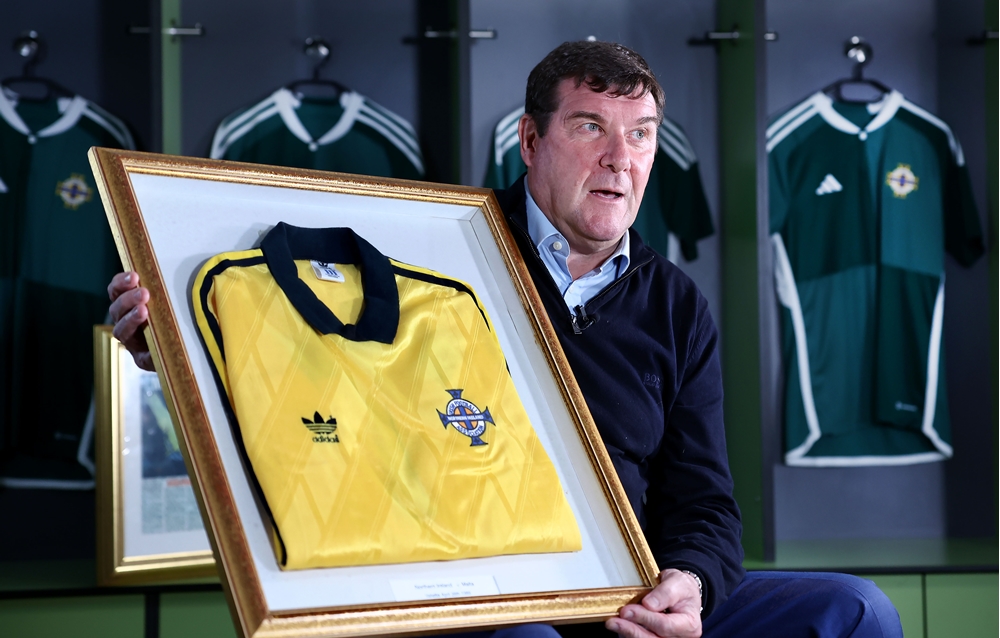 The Debut
Malta 0-2 Northern Ireland, 26 April 1989
"I'd been in the squad a few times and I had sort of an inkling that Billy (Bingham) may change things. He did a session in the afternoon with myself and Allen McKnight and I don't know if it was a wee bit of a test to see who was training the best.
I grew up a supporter and when I got a chance to be a professional footballer, the next step for me was to represent my country
"Billy told us how he always told us. He went round everybody on the training pitch, and I got the handshake. If you didn't get that you weren't playing. I got the handshake, and it was an extremely proud moment.
"I always had an ambition to play for Northern Ireland; I always came to games and stood on the Spion Kop.
"I remember one of my first games – I was only four or five – I was over in the North Stand terraces and standing on an orange box or a beer crate and my dad was holding me and watching George Best.
"I grew up a supporter and when I got a chance to be a professional footballer, the next step for me was to represent my country.
"The game against Malta in 1989 was a proud, proud day. We won the game 2-0 and it couldn't have gone any better for me."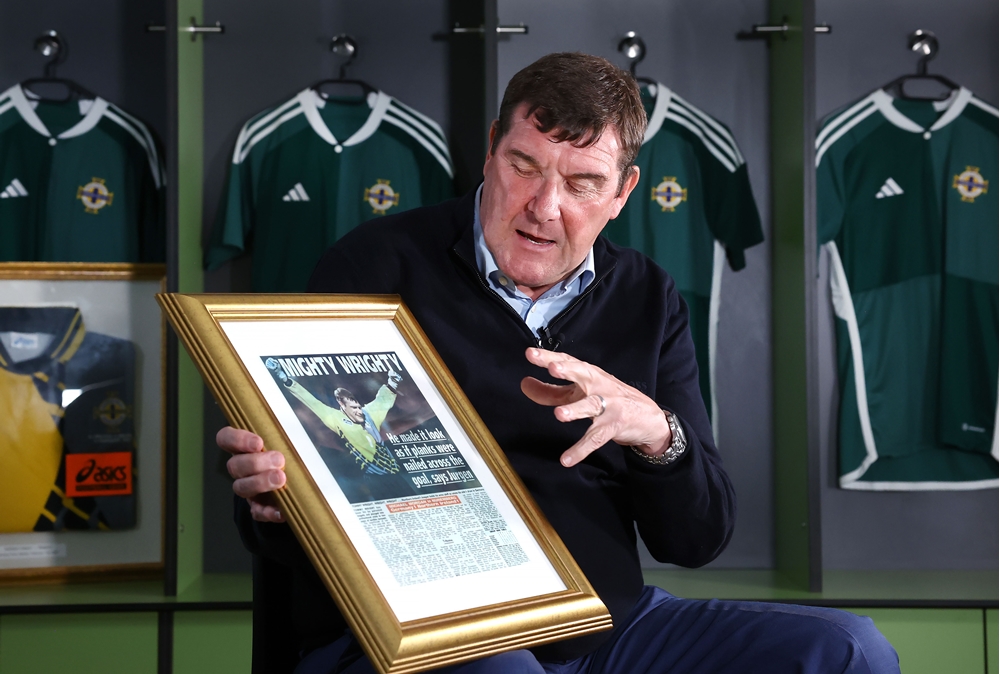 Germany heroics
Germany 1-1 Northern Ireland, 9 November 1996, Nuremberg
"The build-up to it was incredible because I'd been out for two-and-half years with an injury to my right knee at Nottingham Forest. I'd been in for an operation and there were complications in the rehab. I ended up having two more operations. I didn't kick a ball for 30 months.
"I then got a loan to Reading when Bryan Hamilton was the (Northern Ireland) manager; he put me back in the squad and my first game was the European champions, Germany, away.
"All the photographers were behind the German goal. So what do we do? We go and take the lead. Gerry Taggart scored the goal. The Germans equalised through Andreas Möller before half-time, but we held out for a point.
"There was one moment in the game where (Jurgen) Klinsmann had a header and it hit off the far post. And, as I turn around, I'm almost thinking time had stopped, I let the ball go and it hit the other post and fell into my arms.
"The newspaper report was based on Klinsmann's comments when he said that it looked as if I'd nailed planks across my goal. Those were nice comments."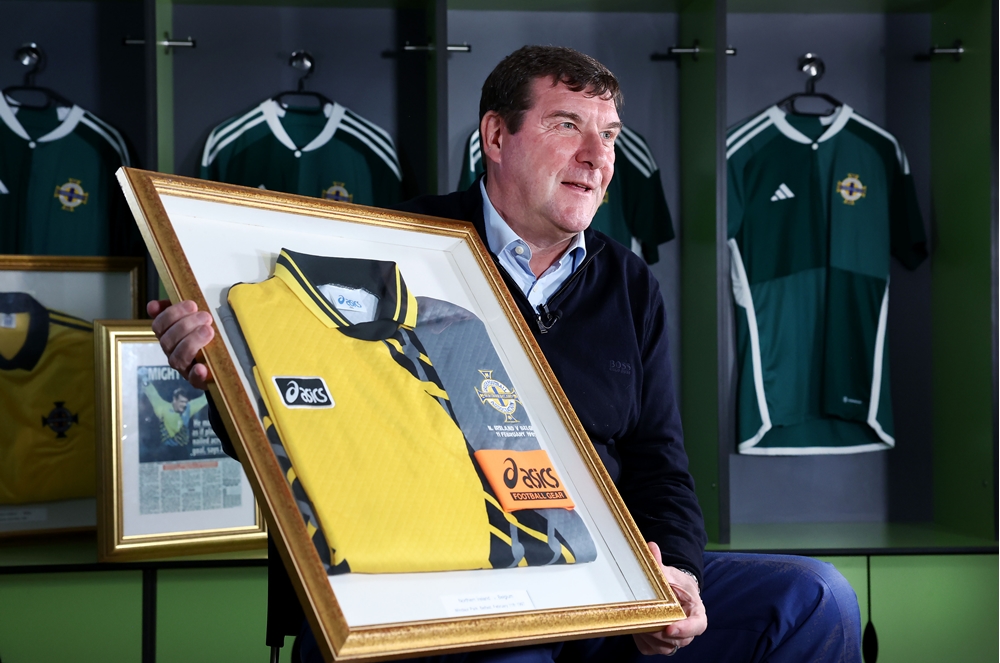 Captaining Northern Ireland
Northern Ireland 3-0 Belgium, 11 February 1997
"It was at home in Belfast in a friendly against Belgium. Bryan Hamilton was the boss and from that I ended up captaining my country three times.
"Again, it's something I look back on with great pride.
"To do it at the National Stadium at Windsor Park was something I was really pleased about."