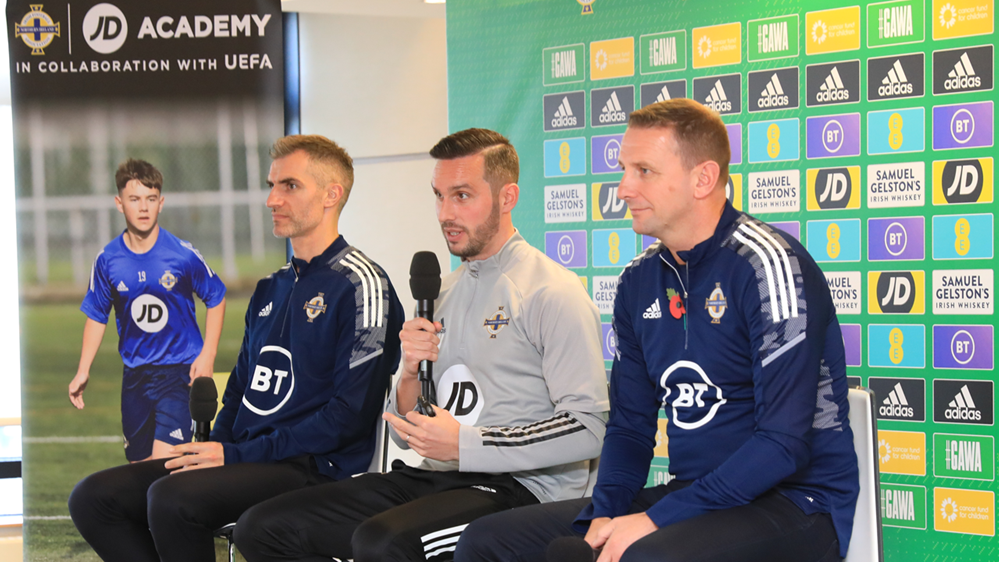 The Irish Football Association has unveiled plans to enhance young players' performance in a bid to boost Northern Ireland's international squads in the future.
Andy Waterworth, head of the Irish FA JD Academy in collaboration with UEFA, provided an update on the evolving JD-sponsored National Performance Programme at a Q&A session staged at Ulster University's Jordanstown campus where the academy is based.
He said the association is aiming to establish and maintain clear pathways to professional football with the ultimate aim of producing international players for Northern Ireland.
The academy head explained the performance programme, which is replacing the JD Club NI set-up, is aimed at identifying and developing emerging talent.
Initially regional centres based at Coleraine, Portadown and Belfast will help to nurture 60 young players from across Northern Ireland aged 13 and 14.
From there players will be chosen to attend the Irish FA JD Academy in collaboration with UEFA. Run by the Irish FA in conjunction with Ulster University, the project is focused on developing emerging talent at school years 11 and 12 (U15 and U16). This year's intake is the largest to date with 35 students from across Northern Ireland attending.
Waterworth explained the performance programme provides a framework to help players develop their technical and tactical abilities and to develop themselves physiologically and psychologically.
He pointed out that on the pitch players will work on ball control and their speed, power and energy as well as their fitness among other things, while off the pitch they will be encouraged to be open minded and open to change. There will be a holistic approach when coaching them, he noted.
The academy head said the evolving framework will also help coaches to develop so that they can help to produce future international players for Northern Ireland.
Waterworth, who took up the role at the academy in July, revealed he speaks regularly with senior men's team manager Ian Baraclough about the academy and young players coming through the ranks.
Baraclough also took part in the Q&A session and said it was important for players to learn life skills as well as develop their skills and tactics on the pitch.
Also on the panel was Aaron Hughes, the former Northern Ireland captain who is now the association's elite football development consultant.
"The academy will help to prepare the players for full-time football. It will teach and show them what they have to do to succeed in the modern game," he pointed out.
Hughes insisted the performance programme would help to grow both players and coaches and to develop football as a whole in Northern Ireland.
The academy's main objective is to produce better players through a mixture of sporting, school and life skills education.
Fully endorsed by UEFA, it is Northern Ireland's first - and only - full-time residential academy for young footballers.