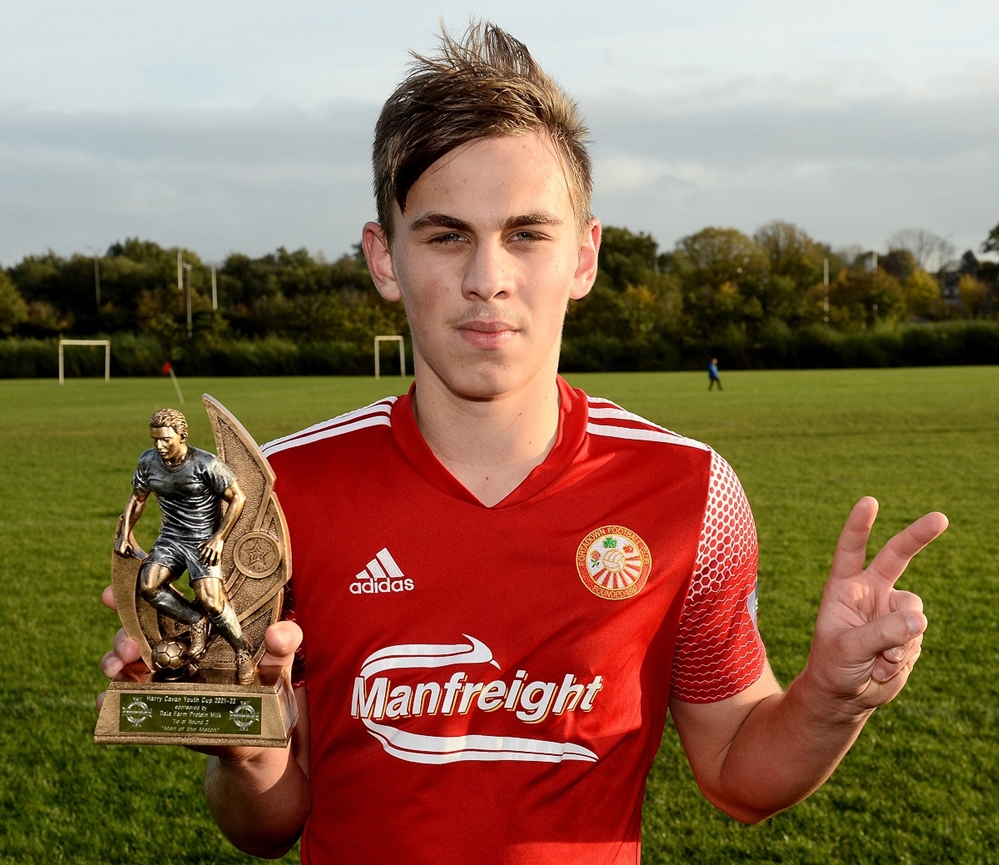 Image: Portadown's Igor Rutkowski with his man of the match trophy. Credit: Gary Hancock
Igor Rutkowski bagged both goals as Portadown defeated Larne 2-0 to book their place in the quarter-finals of the Harry Cavan Youth Cup in partnership with Dale Farm Protein Milk.
The 17-year-old opened the scoring after just 11 minutes. He pounced on a loose ball after Charlie McCrory's initial effort came off Larne keeper Jack Goudie and made no mistake with a looping shot into the unguarded net.
- All the weekend's results | Harry Cavan Youth Cup in partnership with Dale Farm Protein Milk
Larne responded positively to going behind and mounted a number of attacks in an attempt to get back into the game but ultimately they had nothing to show for it.
This left them open at the back and they were duly punished on 24 minutes when Rutkowski found space on the edge of the box to lift the ball over Goudie to double Portadown's lead.
The blustery conditions might have been in Larne's favour but their crosses failed to threaten the Portadown defence.
After the break the visitors went on an early attack but, again, the final effort proved fruitless.
Rutkowski might have added a third goal as the second half progressed when he went on an impressive solo run only to be thwarted when Goudie stood tall to force him wide.
It was a competitive game with Larne clawing their way back into proceedings whilst the Ports attempted to take advantage of the conditions but both camps experienced frustration in front of goal.
Both teams deserved praise for their commitment and unfortunately it just wasn't Larne's day as the Ports held on to progress into the next round of the competition.