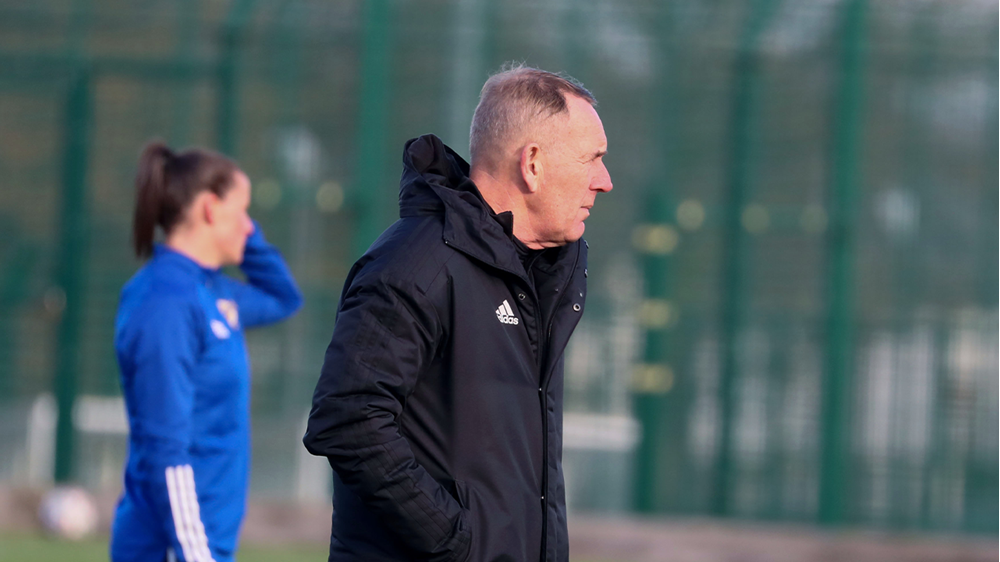 Northern Ireland senior women's boss Kenny Shiels says he's expecting a tough proposition as he prepares his team for a FIFA Women's World Cup qualifying double header against North Macedonia. 
Shiels' squad trained in Belfast today ahead of travelling to Skopje tomorrow in preparation for Thursday's midday clash at FFM Training Centre.
Northern Ireland are four games into their qualifying campaign with seven points on the board. Back-to-back wins against Luxembourg and Latvia in September were followed by defeat to England at Wembley and a 2-2 draw at home to Austria in their last outing. 
North Macedonia's only win of the campaign came courtesy of a 4-1 win over Latvia last month but Shiels says his side will have to battle hard to get three points before Monday's final game of 2021 against the same opponents at Seaview.
"If we're going to reflect on the last game, I don't think there was that much disappointment – there was partially – but I feel that the girls know where they're at, they know where we're trying to go and we know that North Macedonia will be very difficult opponents, so we've got to go there and fight for everything," he said.
"The attacking part of their game is good, and we've got a lot of work to do to try and get a result from this game but we're preparing for it and hopefully that preparation will help us get the result."
As his side continue their progression – and with one eye on next summer's Euros – Shiels has one eye on developing young players. 
"Caitlin McGuinness is one that's been doing well. There's a lot of decisions that I had to make, and I had to do it in the best interests of the squad, which I have to do at every camp. 
"Rachel McLaren came in and she's done exceptionally well. She's a young player and I think what people will understand is I've got a lot of defenders coming towards the end of their career. I've got prepare young players to give them that experience like a trip to North Macedonia and potentially some game time so that they can be part of the future. 
"I always want to try and make sure there's an underbelly coming through is vitally important. In the camp that involves Latvia and Luxembourg we used all the outfield players to get that experience," he added.