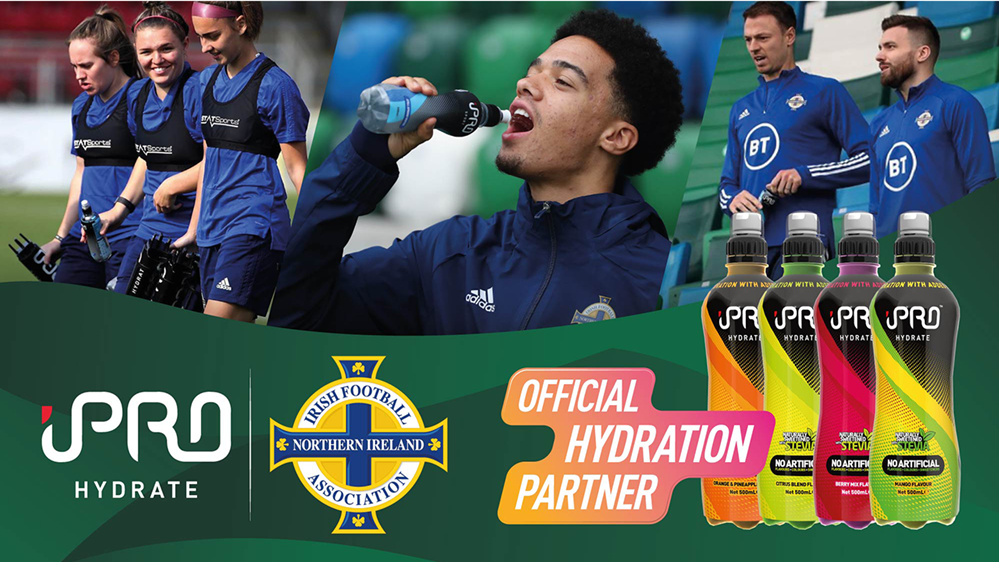 The Irish Football Association has announced a two-year partnership renewal with hydration brand iPRO.
Under the deal iPRO will remain as the association's official hydration partner until 2023.
The company provides healthy hydration to Northern Ireland's men's and women's international teams.
Under the fresh agreement it will also continue to supply iPRO Sport Edition, water and reusable hardware to Irish FA representative teams, referees, the Irish Cup, summer camps, disability football and the association's coach education programme.
iPRO Sport Edition is an informed sport certified hydration drinks range containing a carbohydrate boost of maltodextrin and sweetened with plant-based Stevia extract.
The company points out that fuelling up with iPRO Sport Edition enables Northern Ireland players to maintain their fluid and electrolyte balance, improving muscular strength for quick and explosive movements on the pitch. iPRO Sport Edition drinks are also rich in 100% daily Vitamin C and contain metabolism-boosting vitamins B5, B6, B7 and B12.
iPRO Global Partnerships Manager Lucy Darrall said: "Following a hugely successful and fulfilling partnership with the Irish Football Association, we are incredibly proud to continue our support for the next two years.
"We have truly enjoyed working alongside the staff, hydrating the squads and supporting Irish FA Foundation programmes such as disability football."
Stephen Bogle, Head of Sales and Marketing at the Irish FA, said: "We are delighted to renew our partnership with iPRO.
"As our official hydration partner, iPRO's products are essential to the preparation and performance of the squads and we look forward to continuing to work with them in the coming years."