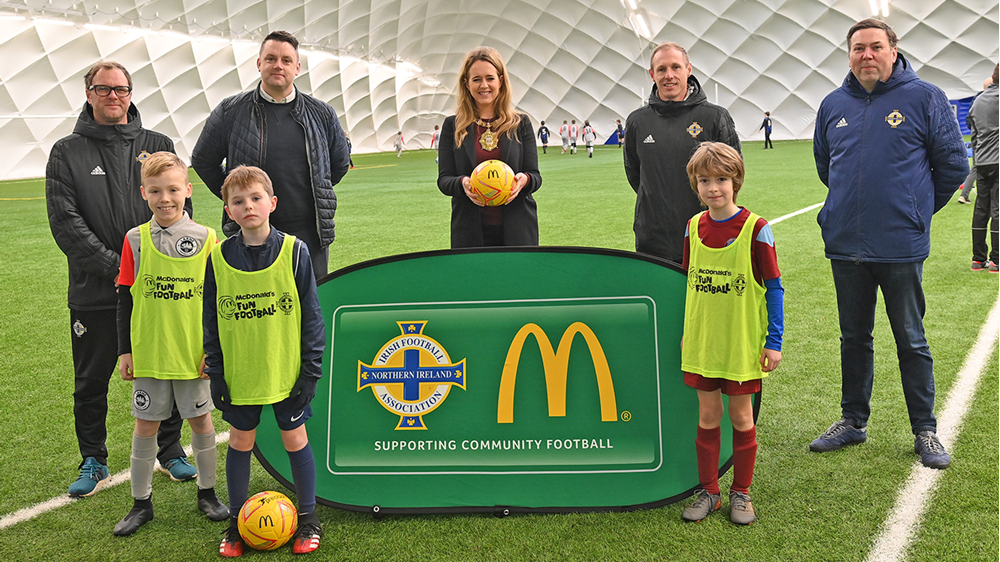 Belfast Lord Mayor Kate Nicholl has revealed she felt inspired after visiting the Irish FA Foundation's Belfast Games Development Centre at Colin Park in the city.
Through the Irish Football Association's Small-Sided Games programme, sponsored by McDonald's, more than 170 teams play weekly at the centre, from Under-8 to Under-11 boys, girls and mixed teams along with girls-only age groups.
Jordan Reid, Irish FA Foundation Regional Grassroots Development Officer for North and West Belfast, said: "We invited the Lord Mayor along to see the great work of the 300-plus volunteers that give up their time to make the programme work and to help develop players of all abilities.
"We also wanted to highlight the importance of small-sided games and how the young players can develop their skills and have fun in a pressure-free environment."
During her visit to Colin Park at the weekend, the Lord Mayor said: "It's wonderful to see people from across the city experiencing different parts of the city and coming together to play sport. Congratulations to everyone involved. It's fantastic and really inspiring to see."
Both Councillor Nicholl and Gareth Moore from McDonald's were impressed with the facilities - and the talent on show.
Gareth said: "McDonald's are proud to partner with the Irish FA to help deliver Small-Sided Games programmes across the country as well as Fun Football programmes and it is great to see the young children playing and having fun."
The SSG format is seen as important in not only allowing young children to play with freedom and fun in a pressure-free environment but also as a first step on the player pathway to producing more creative players and developing technique.
Teams participating in matches at Colin Park play on pitches which are suited to their size/age and with footballs that also suit each age group and players' abilities.