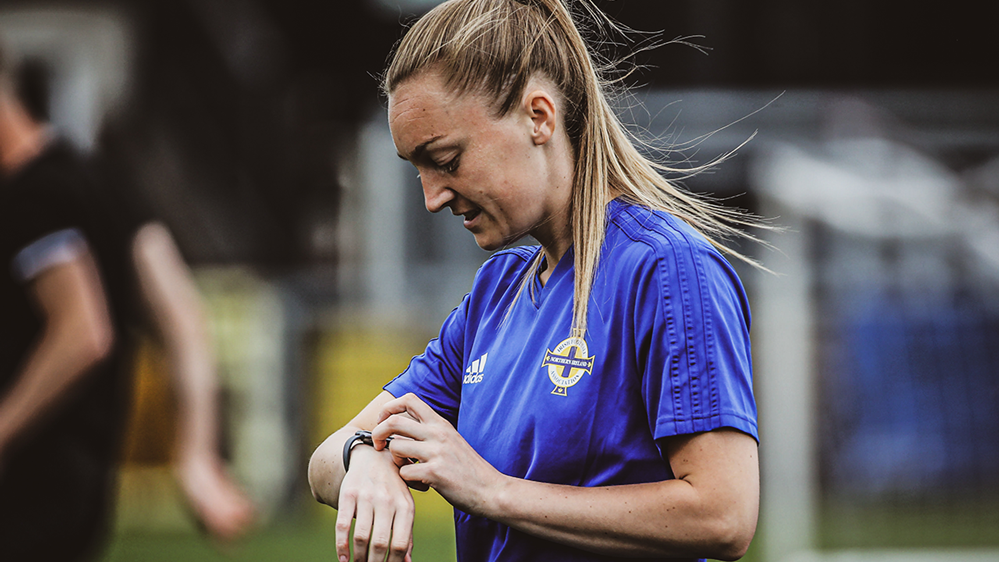 Lauren Wade has revealed the Northern Ireland senior women's team are well prepared ahead of tomorrow's FIFA Women's World Cup 2023 qualifier against Macedonia Women.
The striker said the mood has been good in training this week in the run-up to the game in Skopje (12 noon kick-off GMT).
"We have worked hard and we know what we have to do to make sure that we get the result," she insisted.
The Glentoran Women forward said Kenny Shiels and his squad are looking forward to the match, which is being staged at the Football Federation of North Macedonia Training Centre, adding: "We've done our preparation and the coaches have done theirs."
Northern Ireland currently lie third behind England and Austria in European Qualifying Group D following their 2-2 draw with Austria at Seaview last month. They have seven points from four qualifiers to date.
North Macedonia are in fourth place in the six-team group with three points from four matches. They got off the mark in Group D when defeating Latvia 4-1 away last month.
On paper Northern Ireland should win tomorrow and against the same opponents at Seaview next Monday.
However, Wade stressed: "There's no team in this group that can be underestimated."
The top seeds in the group, England and Austria, play each other at the Stadium of Light in Sunderland on Saturday.
Reflecting on last month's draw with the Austrians, she said: "After the game there was that bit of disappointment but over the last number of weeks we have been able to reflect and we have to be proud of ourselves.
"I think it shows how far we've come as a group. Austria are a superb team. To get the draw against them was disappointing obviously with leading the game but we have to be proud of ourselves."
The striker further revealed she is enjoying her football after returning home from Scotland where she played for Glasgow City.
"Since I've come home I've really enjoyed it. For me looking back it was probably one of the best decisions that I have made. I am playing with confidence and it really shows. I am really enjoying my football at the moment at club level as well as with Northern Ireland."
Wade won a treble with Glentoran Women this year. She also said she loves playing for Northern Ireland: "It means everything to pull on the green jersey. It's always been a dream of mine. I really felt it (proud) in the last couple of games with the fans being there. You are there playing in front of the Green and White Army.
"To play for your country is one of the highest honours you can have and I am very proud to play for Northern Ireland."