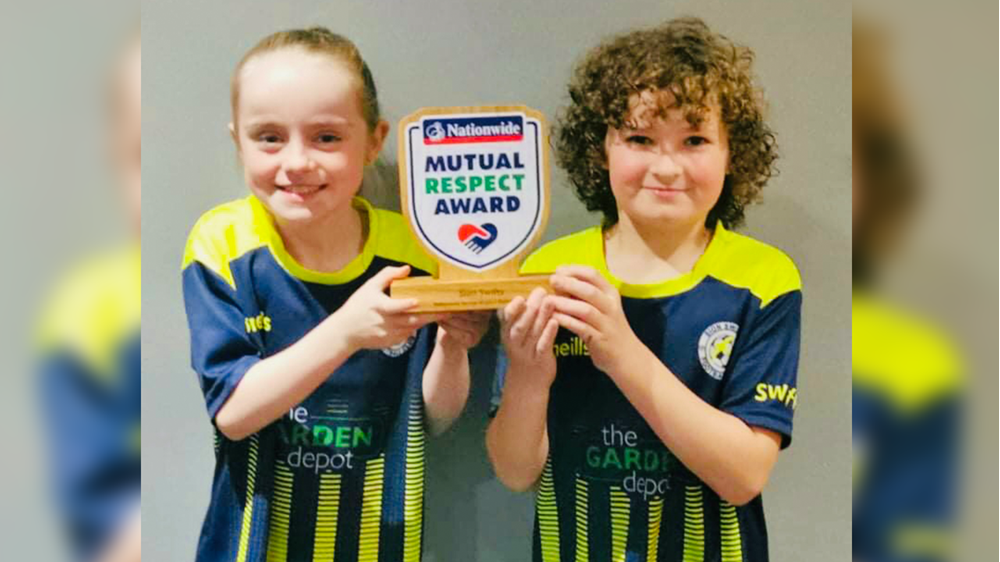 The Irish FA and Nationwide Building Society are delighted to announce that Sion Swifts FC are the first ever winner of the Nationwide Mutual Respect Award.
The new quarterly awards are aimed at helping make grassroots football in Northern Ireland even more respectful and positive. They aim to recognise outstanding contributions, achievements and behaviour in grassroots football by young players under 18, coaches, teams, parents and referees.
And the Co Tyrone club's 2013s are doing a phenomenal job promoting equality and respect this season by having a strong blend of boys and girls not just in training but in their league and cup matches.
Traditionally this age group was dominated by boys but this season the girls are playing a leading role in everything they do. As a result the entire squad is building respect for each other and displaying regular respect for opposition, coaches and match officials.
Chris Brown, manager of Sion Swifts 2013s, said: "We are delighted to be the first ever recipients of this incredibly prestigious award.  
"Respect for each other is at the heart of everything we do at Sion Swifts Football Club and we're very proud that the hard work and commitment of the coaches and players has been acknowledged in this way.  
"Providing a fun, safe environment for the kids to play the game they love is very important to our entire coaching team and it is paying dividends as the 2013 group has massively increased its membership with players coming from all over Tyrone to participate."
The squad has experienced both heavy wins and defeats, but the young players always displayed respect for the opposition, showing good grace and sportsmanship regardless of results.
Mutual respect and 'we only do positive' are very important concepts to the group. These principles are talked about at every training session and match and the kids enjoy the game even more because of it.
Kevin Boyle, chairperson of Sion Swifts Football Club, added: "Sion Swifts has more than 330 registered players ranging from our U5s to senior level with a further 200 plus players in our sister club Sion Swifts Ladies and Girls' FC, so it's important they all feel welcome and respected.
"Respect is at the core of everything we do so it's a fantastic achievement and great honour for the entire club that we've received this award."
Stephen Bogle, Head of Sales and Marketing at the Irish FA, said: "We're delighted to launch this new quarterly award alongside Nationwide.  We're looking for nominations right across the game from players to coaching staff to volunteers and the parents that selflessly give up their time for their local club.
"So, no matter if it's on or off the pitch, we would encourage everyone to nominate their grassroots respect hero today and get them the recognition they deserve."
Nationwide Building Society's Paul Hibbs said: "We are thrilled to partner with The Irish FA to bring to life the Nationwide Mutual Respect Awards and recognise outstanding contributions in Northern Ireland's grassroots football."