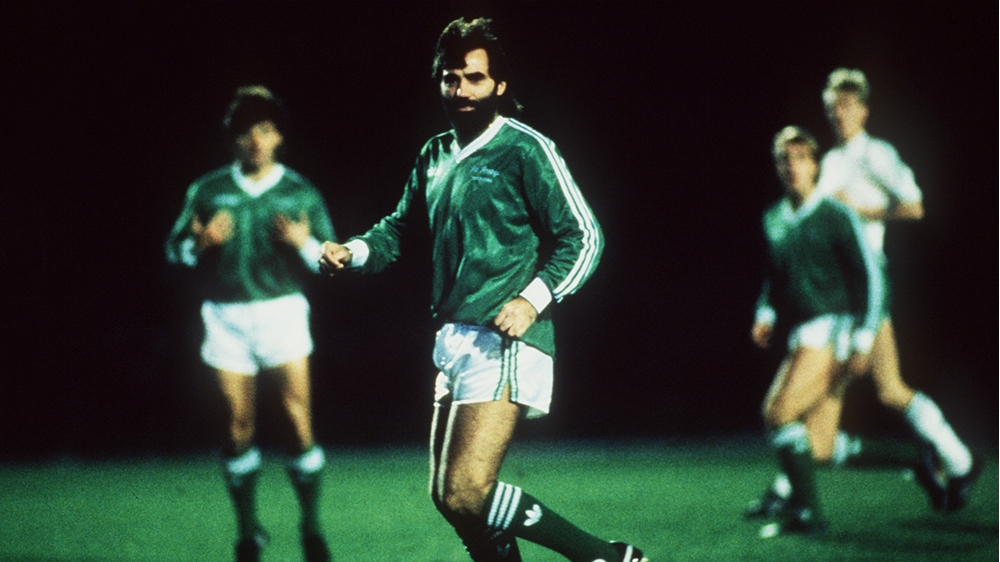 Today marks 15 years since the death of a Northern Irish football icon. There is only one word to describe George Best: genius!
For an entire generation the mercurial Best was a superstar and the greatest player on the planet bar none! His mesmerising skill, his balance his poise were just a few of his exhilarating traits.
It all began in 1963, just two years after signing as a schoolboy for Manchester United, when he made his league debut for the club in a home fixture against West Bromwich Albion at the tender age of 17. 
Even at that early stage it was plain to see George had it all: balance, pace, bravery, vision and most of all an unshakable belief in his own ability. The youngster from the Cregagh Estate in Belfast had the world at his feet.
Throughout the 1960s he was arguably the world's greatest footballer, winning two league titles and a European Cup with Manchester United as well as being named European Football of the Year - and all that by the time he was 22.
On the international stage Best and Pat Jennings both made their debut in a 3-2 British International Championship win against Wales in 1964. 
Just seven days later Best's first international goal arrived when he opened the scoring in a 2-1 World Cup qualifying defeat to Switzerland in Lausanne. 
George himself believed his finest ever performance in a green shirt was the 1-0 victory over Scotland at Windsor Park in October 1967. Best was unplayable in that game and only the sheer brilliance of Celtic goalkeeper Ronnie Simpson prevented him from getting on the scoresheet.
In February 1974 after 468 appearances and 178 goals, he called time on his Old Trafford career.
George became something of a journeyman following his Manchester United departure: he had spells in America with Los Angeles Aztecs and San Jose Earthquakes as well as stints with Fulham and Scottish Premier League side Hibernian in the mid to late 1970s. 
In 1976, following a three-year absence, Northern Ireland boss Danny Blanchflower recalled him into the international fold for the World Cup tie with the Netherlands in Rotterdam.
Best, who was then starring with Fulham in the old second division, rolled back the years with a breathtaking performance against a Dutch side who were World Cup runners-up just two years previously.
He was to represent his country on just another four further occasions, before playing his final game in a 1-0 reverse to the Netherlands at Windsor Park in October 1977. 
Following his retirement, George worked in the media as a football pundit for a number of years before sadly passing away on 25 November 2005 aged just 59.  
10 things you probably didn't know about George Best
George is the 13th youngest player ever to play for Northern Ireland. He was just 17 years and 359 days when he made his debut on 15 April 1964. 
George wore four different shirt numbers in his 37 international appearances for Northern Ireland. Number 7 – (12 times), Number 8 – (3 times), Number 10 – (twice), Number 11 – (20 times).
Best was sent-off twice playing for Northern Ireland. The first occasion was in a home international match against Scotland at Windsor Park in April 1970. The second time he saw red was in a 3-0 European Championship qualifying defeat to Bulgaria in Sofia in October 1972. 
Best featured alongside Pat Jennings in 33 of his 37 matches for his country. 
Although he never achieved any caps at schoolboy level for Northern Ireland, he did play in two youth internationals for his country. The first was against England on 11 May 1962; a game which ended in a 1-1 draw. He won his second cap exactly a week later in another 1-1 draw in Aberystwyth against Wales. 
He holds the record of having scored the quickest ever hat-trick for Northern Ireland when he hit three inside 12 minutes in a 5-0 defeat of Cyprus at Windsor Park on 21st April 1971. 
There is still controversy as to whether George's second goal for his Northern Ireland should in fact have been awarded to Willie Irvine. The match in question was against Scotland on 25th November 1964. The Burnley striker confirmed after the game that he did actually get his head to Best's wayward shot to divert it into the Scottish net!
The only time George ever played a full international on his birthday (22 May) was in 1971 in a 1-0 defeat to Wales at Windsor Park. 
Best's total of 3,298 minutes for Northern Ireland at senior level came in the following competitions: British International Championship – 1,234, World Cup Qualifiers – 1,080, European Championship qualifiers – 804, Friendlies – 180
George Best's record in a Northern Ireland shirt was: won 13, drew 8 and lost 16. 
Best is one of 10 Northern Ireland players featured in the Hall of Fame exhibit at the Education and Heritage Centre at the National Football Stadium at Windsor Park.