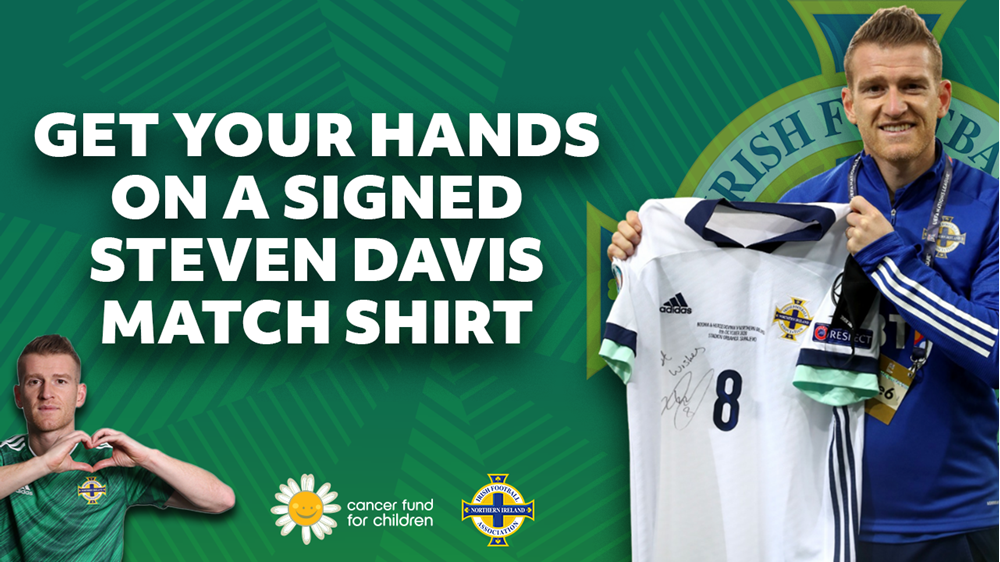 Northern Ireland captain Steven Davis has donated a signed match shirt from his record-breaking appearance against Bosnia and to Herzegovina to support Cancer Fund for Children.
The skipper eclipsed Pat Jennings' record to become the all-time most-capped player for Northern Ireland in the memorable UEFA Euro 2020 semi-final play-off victory in Sarajevo last month.
And now the inspirational midfielder is handing over the shirt to the Northern Ireland senior men's team's charity partner to help launch a raffle to raise vital funds for their work.
Every week in Northern Ireland another three children and young people aged 0-24 years old will be diagnosed with cancer.
As Northern Ireland's leading children's cancer charity, Cancer Fund for Children, understands the devastating impact a cancer diagnosis and its treatment has on the whole family, and that beyond the essential medical care, there is a family life that needs to be rebuilt. 
Steven Davis said: "I'm delighted to be supporting the Cancer Fund for Children in this way. 
"Our win in Bosnia was an unforgettable night and now the GAWA, who would ordinarily be there roaring us on, can recognise it in their own way and support a brilliant cause in the meantime."
Phil Alexander, CEO of Cancer Fund for Children added: "We're absolutely delighted that Steven has donated such a significant shirt from his Northern Ireland career to benefit children and young people with cancer. The Irish FA have been fantastic supporters of Cancer Fund for Children and this is such a great opportunity for the fans to win such a unique item of NI footballing history, while also raising much-needed funds for local families living with cancer."
Fans, and their friends and family, can enter the Cancer Fund for Children raffle at a cost of just £1 per ticket. The more raffle tickets you purchase, the more the chances you have to win, and the more funds Cancer Fund for Children receive – it's a win-win!