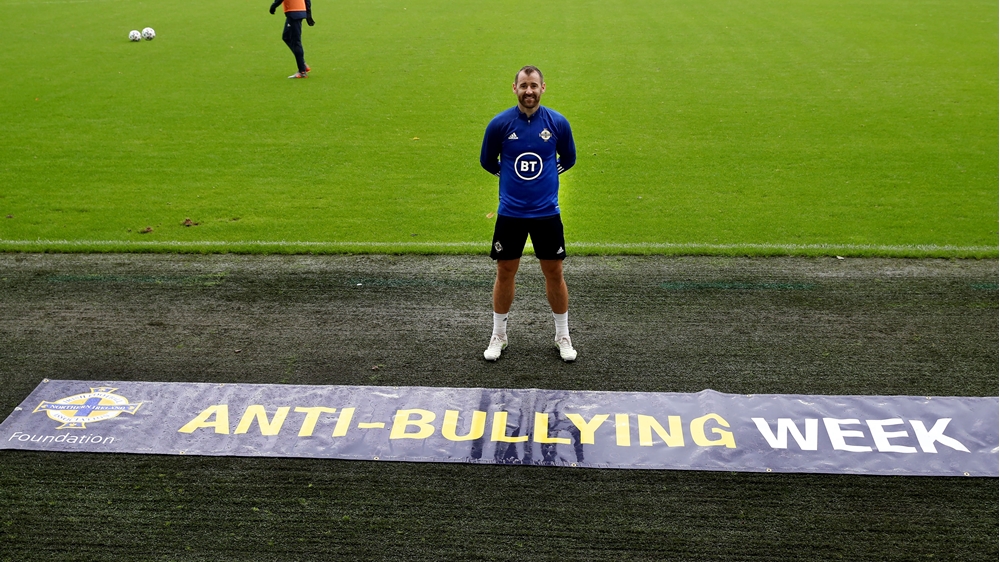 Football clubs and teams across Northern Ireland are being encouraged to unite against bullying this week.
'Uniting Against Bullying' is the theme of this year's Anti-Bullying Week and the Irish FA and Irish FA Foundation are asking the wider football family here to support the campaign.
The Anti-Bullying Alliance defines bullying as the repetitive, intentional hurting of one person or group by another person or group, where the relationship involves an imbalance of power. It can happen face to face or online and have a potentially devastating impact on young footballers.
Kevin Doyle, the association's Safeguarding Service Delivery Manager, said: "During a year which has been blighted by Covid-19 it is perhaps more important than ever that we make sure our football clubs provide a platform for young players to come together to play the game they love free from bullying and harmful behaviour. 
"We've had the lockdowns, the school closures and the self-isolation. We've lost out on sporting and recreational activities, and how we socialise with friends and family has changed dramatically. 
"Many of us have lost loved ones due to the current pandemic. When it is safe for football to return as outlined in the Irish FA document 'Return to the Everyday Game' let's make sure our children have the rewarding and positive experience they deserve."
He explained everyone has a part to play in uniting against bullying, noting that coaches can have a significant impact on a child's life. 
"Simply displaying positive behaviour and being an approachable and trusted adult will encourage a child to confide in a coach if they are being subjected to bullying behaviour," he insisted.
Anti-Bullying Week highlights the fact that help and support is available through club welfare officers. 
Kevin explained: "Parents and carers want nothing more than to see their children play football with a smile on their face. Participating in a team sport, making new friends and enjoying both the physical and mental health benefits of playing football should never be underestimated.
"If they have any concerns about their child we would encourage them to talk to them calmly about their experience, reassure them that they are safe and seek support from their club coach or welfare officer."   
He also said a young person experiencing or witnessing bullying behaviour should always remember that they can help either themselves or one of their friends. He said they should seek help by telling a trusted adult – a family member, a sports coach or a teacher – about their experiences. They can also contact Childline on 0800 1111 in confidence. 
Kevin further pointed out that the risk of cyberbullying has increased in recent times and further information on staying safe online and parental controls is available from www.net-aware.org.uk and www.thinkuknow.co.uk.
The Irish FA is also urging clubs to support the special week by getting involved in activities being promoted by the Anti-Bullying Alliance (anti-bullyingalliance.org.uk).
Kevin added: "Let's celebrate our individuality, acceptance and tolerance. Try and be creative but ensure any activity is in line with current guidance from the Northern Ireland Executive.
"We all have our own interests and are different in how we look and behave. It's OK to be different. Don't forget to share your images or videos on your club's social media as we unite together against bullying."
Image: Northern Ireland senior men's international Niall McGinn shows his support for Anti-Bullying Week.