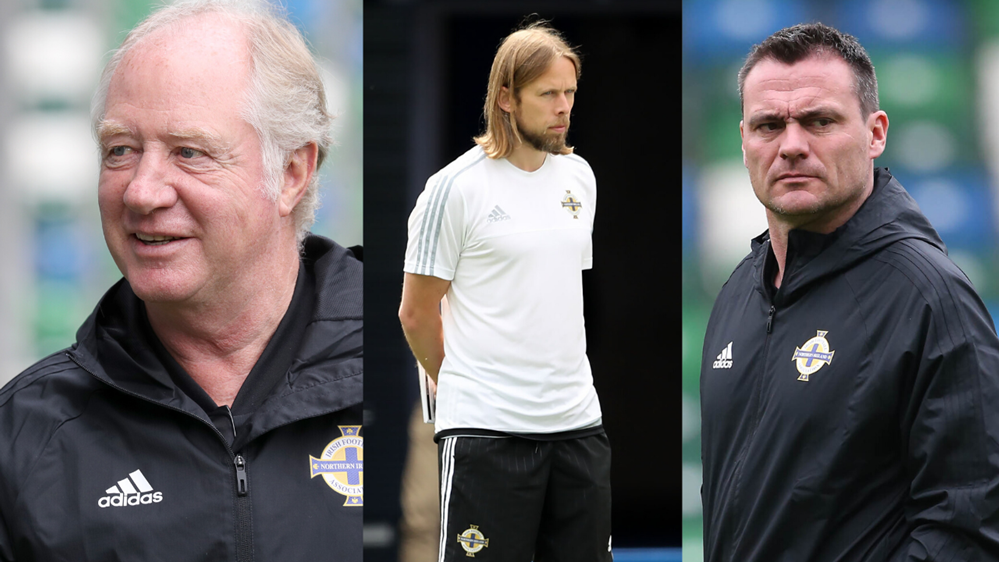 New Northern Ireland senior men's manager Ian Baraclough has given an update on his backroom coaching team.  
Baraclough was announced as the successor to Michael O'Neill at the weekend and during a media video call at the National Football Stadium at Windsor Park on Tuesday outlined that he would be retaining three key coaching personnel.
The experienced Jimmy Nicholl, who won 73 caps for Northern Ireland and played at the 1982 and 1986 World Cups, will remain as assistant manager. 
Nicholl, 63, has served in the role since 2015 when he was recruited Michael O'Neill.
"I spoke with Jimmy on Saturday evening and I thought it was important to speak to him first," Baraclough said. "He deserves the respect that he commands. He is someone that I cannot speak highly enough of. 
"I've seen him work around the group. He has got so much wisdom and experience from World Cups when he worked under a manager like Billy Bingham. I was pleased that Jimmy accepted the offer to stay on." 
Jimmy Nicholl deserves the respect that he commands. He is someone that I cannot speak highly enough of
Coach Austin MacPhee has also been retained by Baraclough as the new boss looks ahead to the opening UEFA Nations League games away to Romania and at home to Norway in September.
"I've spoken to Austin in regards to his role, which will have a slight change to it but he's been very receptive to that and, like me, he can't wait to come back in September and meet up with the rest of the staff and players," Baraclough said.
Goalkeeper coach Steve Harper also remains in post, having been part of the Northern Ireland set-up since early 2019. 
"Steve has 20 years of experience in the Premier League and has been involved in big games. I've seen the way he works with our goalkeepers and they have been really impressed with the way he goes about his work," the new Northern Ireland manager added.