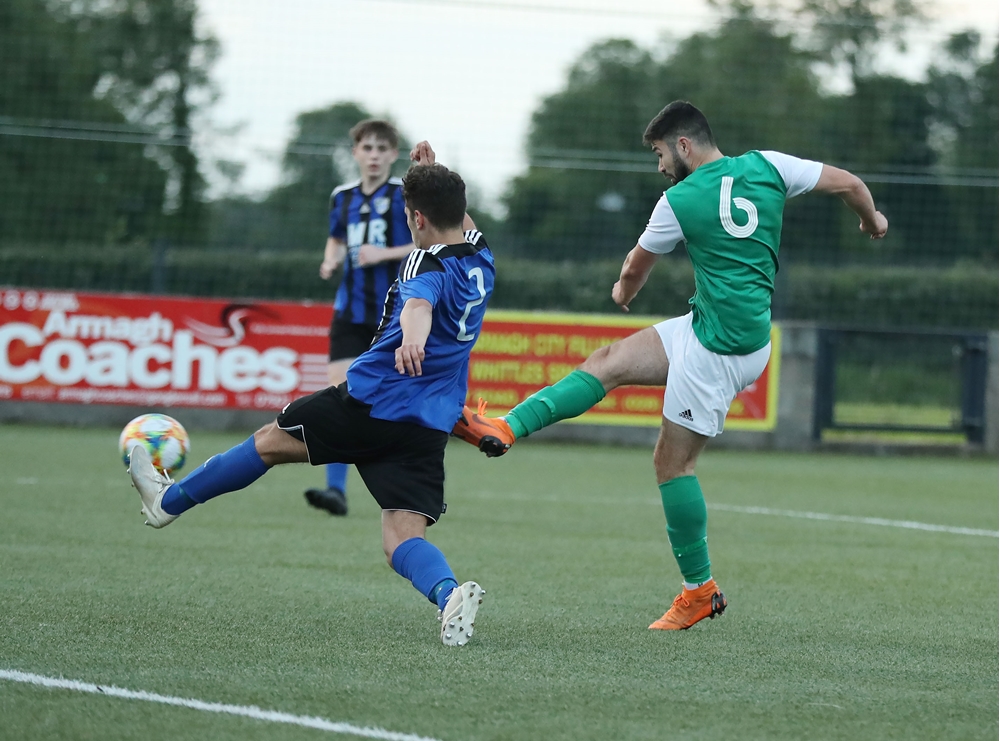 Amateur League side Willowbank booked their place in this year's fonaCAB Irish Junior Cup final with a deserved win against NFC Kesh of the Fermanagh and Western League.
The west Belfast team largely controlled things in the semi-final staged at Armagh City's Holm Park ground – and ran out 2-0 winners.
Willowbank scored early on in what was an entertaining contest behind closed doors, and it was a lead they never really looked like relinquishing.
The early goal, after 8 minutes, came via a spot kick. A Willowbank forward was fouled just inside the area and referee Gareth O'Donnell immediately pointed to the spot. The Belfast team's captain, Eamon Hughes, stepped up to calmly slot the penalty past Kesh keeper Joshua Brownlee.
Willowbank created several chances in the first half but failed to add to their lead.
And just before the interval Kesh, driven on by skipper Nigel Beacom, almost equalised through number nine Mark Jones, however Willowbank keeper Ciaran Kelly came to his side's rescue with a fine save from the striker's rasping shot.
The second half was largely dominated by the Belfast team, and Brownlee was the busiest player on the pitch, but they did not manage to extend their lead until 14 minutes from time, Nathan Garland-O'Neill latching on to a through ball and beating the Kesh keeper with a neat low drive.
Towards the end Kesh threw caution to the wind. The north Fermanagh outfit had a couple of efforts blocked by a resolute Bank defence but it was not to be their night.
Declan McCrory's side will now play another Fermanagh team, current Junior Cup holders Enniskillen Rangers, in next week's final. It is due to be played on Tuesday, with the time/venue TBC.
Kesh: Joshua Brownlee, Jacob Britton, Kyle Malone, Nigel Beacom (captain), Grant Ellis, Ryan Beatty, Lee Walker, Mark Jones, Jordan Cadden, Christopher McDowell, Darren McQuade. Substitutes: Jordon Flack, Gareth Keys, Simon Johnston, Jack Reid, Jake Irvine.
Willowbank: Ciaran Kelly, Christopher Heaney, Gary Manson, Eamon Hughes (captain), Nathan Garland-O'Neill, Ryan McAreavey, Pearse Devine, Thomas McCrory, Ciaran Winchester, Connor McCullough. Substitutes: Liam Prigent, Richard McAvoy, Michael Savage, Declan Gill, Ryan McCabe.
Junior Cup Semi Final NFC Kesh v Willowbank Photos