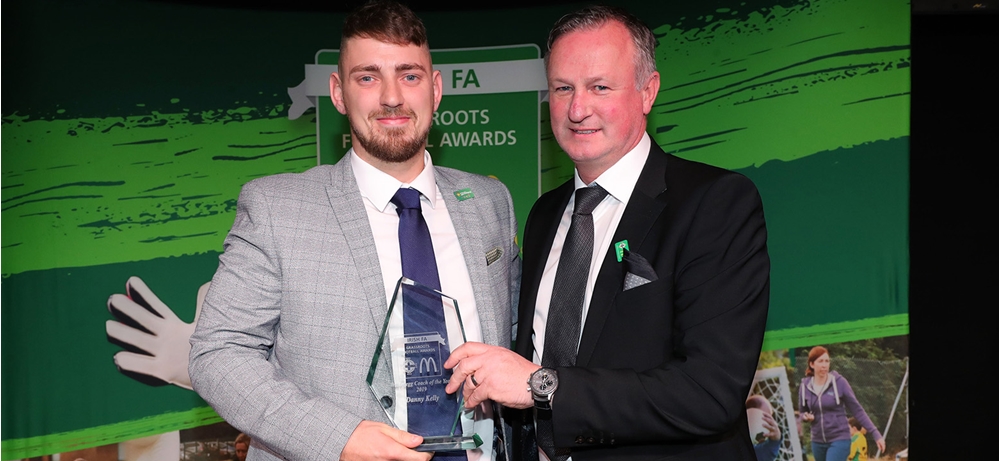 Grassroots football across Northern Ireland received a welcome boost last week with the news that full training and games could return from 17 July. 
It has been a long road, with many young players, coaches, parents and others missing the fun, participation and inclusivity of the grassroots game, all of which are at the heart of the 2020 McDonald's Irish FA Grassroots Football Awards. 
Nominations for the awards, which have nine different categories, close later this month and the Irish FA and McDonald's are urging people to get online and nominate their grassroots heroes who do so much for the local game. 
Undoubtedly the past four months have been challenging and difficult, however the proactive and valuable work from grassroots football clubs has been a shining example of leadership, supporting those in need within communities across Northern Ireland. That is why, in a year like no other, nominating the unsung heroes of grassroots football is more important than ever before. 
For the 19th year running the awards will champion those local heroes who, through their clubs, have made a hugely positive civic impact while supporting the grassroots game – and this year they will also highlight those who have excelled in their efforts during the Covid-19 crisis.
Having stopped off in east Belfast, where we recently caught up with Chairman of Braniel Football Club and 2018 Grassroots Awards winner Corey Wilson, this week the Awards Tour reached North Down where we spoke to 2019 'Wes Gregg Coach of the Year' Danny Kelly from Bangor Swifts Youth FC.
Danny explained how he and Bangor Swifts FC have operated during lockdown.
He said: "The past few months have proved how important the game is to so many people. I went from coaching Monday to Saturday to not seeing any of the children, parents or my senior squad players at Bangor Swifts, which was hard to adjust to. 
"The fun we have during coaching is something that I know many will have missed, but we are very lucky that we have such dedicated coaches who all ensured that teams were still able to interact and connect with their peers through different games, tasks and video challenges such as showing us their tricks and flicks and keepy-ups. 
"From 18th May to 18th June the senior club paired off into two teams and competed in a fitness challenge. The challenge was to run 5/10/15km or cycle 15/30/45km and for each increment you got a goal. We covered 9882.81km over the month, powered by healthy competition between the two teams who managed to come out with a draw. 
"In addition to keeping players engaged with the game and fitness we wanted to give back to our local community so we took part in a beach clean down at Ballyholme which was led by our senior club's vice chairman, a team of seniors and some of our eager junior members. 
"They donned gloves and grabbed some bin bags while maintaining social distance and ensuring all rules and regulations were adhered to, helping to tidy up a local beauty spot." 
Danny added: "I was delighted to hear that the McDonald's IFA Grassroots Football Awards will be back for 2020 because we all need something to look forward to.
"Last year the club was immensely proud to be nominated for the Club of the Year and then for me to be nominated and to actually win the Coach of the Year was amazing. 
"It has been a real boost to us as a club with the buzz and excitement of it all and for me personally it has been absolutely unreal.
"I'm very humbled and honoured to have such an accolade beside my name especially knowing how much the award means to the IFA and the Gregg family."
Danny pointed out his coaching journey is still in its infancy.
But he added: "Winning the award has introduced me to a great network of coaches, pushing me to do more and do better, to grow and develop my own coaching business. 
"I'm sure there will be many like myself who are counting down the days until we can get back on the pitch so I would encourage all clubs in Northern Ireland to think about entering the awards to give players, coaches and volunteers the chance to gain the recognition they deserve for their hard work and dedication, especially during these tough times." 
The awards honour those people at the heart of grassroots football with nine categories including: Club of the Year, Mum of the Year, Futsal Award, Inclusivity Award, People's Choice, Volunteer of the Year, Young volunteer of the Year, Coach of the Year.