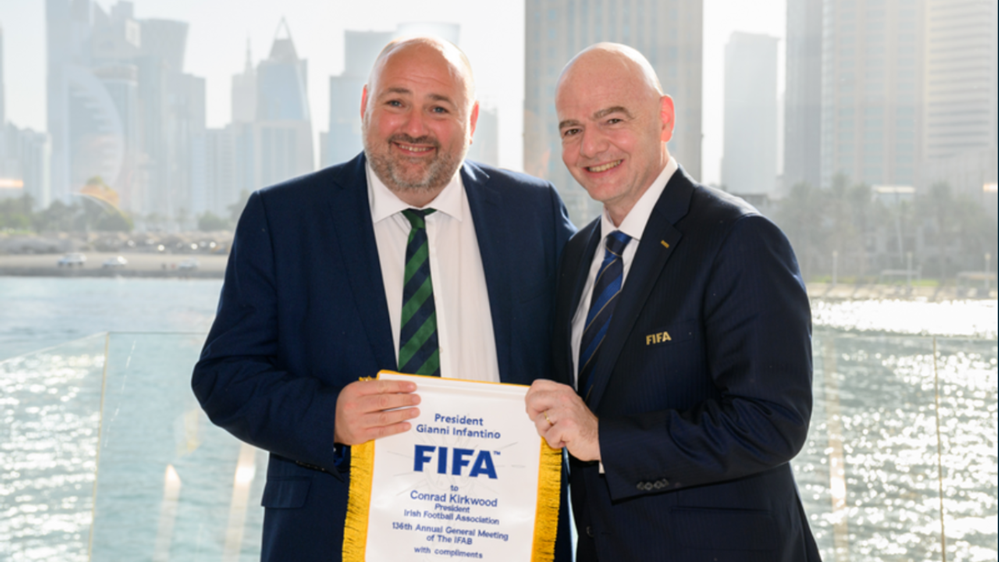 President Conrad Kirkwood and Chief Executive Patrick Nelson represented the Irish FA at the 136
th
Annual General Meeting (AGM) of IFAB, which took place in Doha this week.
As well as the Irish FA, the International Football Association Board (IFAB) is made up of FIFA, The FA, the Scottish FA and the FA of Wales.
Changes to the Laws of the Game 2022/23 were discussed and will come into effect on 1 July 2022. 
The meeting resulted in the approval of the five-substitute rule, originally implemented temporarily for player welfare during the global pandemic. This rule has been extended several times and is now permanent. Teams will continue to have three substitution slots plus a half-time slot to make the five changes.   
Another addition to the rules is the maximum number of named substitutes listed on the team sheet from 12 to 15. This rule is at the discretion of the competition organiser.
Concussion substitutes were discussed with the ultimate decision being to continue the ongoing trial of permanent concussion substitutes rather than introducing temporary replacements.
FIFA provided updates on VAR which included the trial of VAR Light in over 100 matches. This technology helps video match officials determine offside situations more quickly and accurately. A potential trial for a video support solution is being considered by FIFA.
Respect towards referees was analysed as the safety of officials is becoming a global issue. One suggestion to tackle this problem is for referees to wear body cameras. Trials were also discussed to explain certain refereeing decisions during a game to avoid this problem. 
The IFAB and FIFA suggested trials for fairer calculation of playing time and kick-ins to replace throw-ins. These will continue to be monitored until the next AGM.