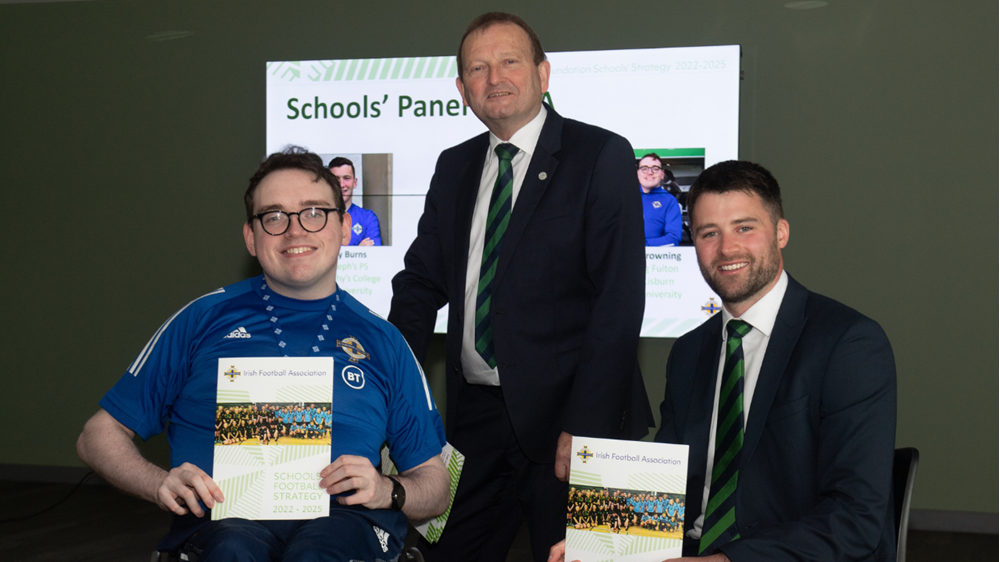 Stakeholders from the football, education and political sectors gathered today at the National Football Stadium at Windsor Park for the launch of the Irish FA Foundation's new Schools' Strategy. 
The strategy outlines the direction of the Irish FA Foundation's work in schools until 2025, with the aim of further popularising football at all stages of education.
Its main objectives are to increase participation levels, build capacity and further embed football in the curriculum of schools to engage as many students as possible.
The newly released strategy provides a range of opportunities for students to enjoy football, from kicking a ball for fun to playing at a higher competitive level.
The event was hosted by BBC Sport NI's Nicola McCarthy, who led a panel of experts to discuss their football experiences at school, including Danielle McDowell, formerly of Crusaders Strikers, and Glentoran's Bobby Burns.
They were joined by Jason Browning, the Irish FA's Disability Access Officer and Northern Ireland Powerchair footballer.
Jason spoke about how people with disabilities are becoming more represented in sport.
He said: "Playing football at school allowed me to find something I love and has allowed me to support and celebrate players and fans with a disability. It has allowed me to forge a pathway and make a difference to the game I love."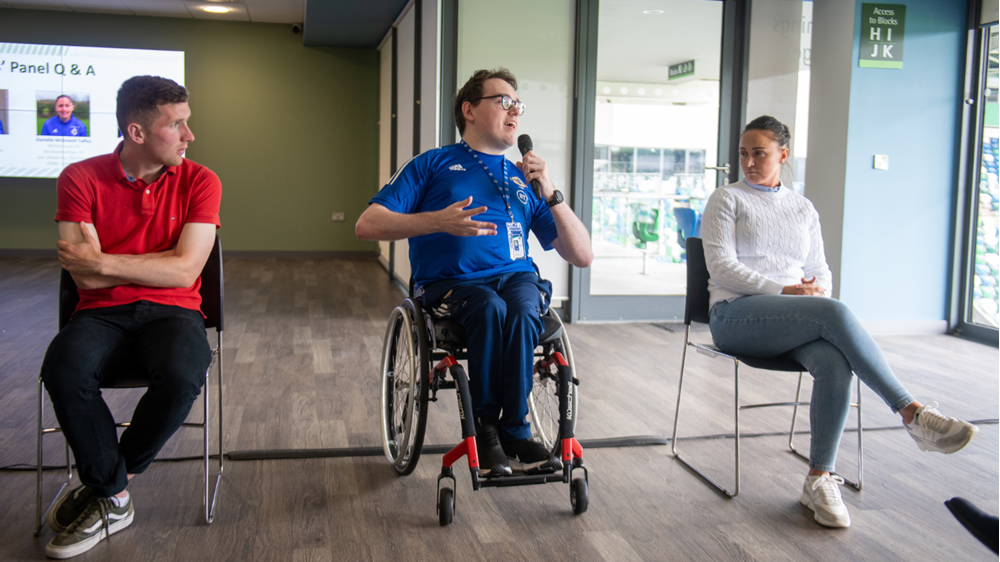 David Martin, Chairman of the Irish FA Foundation and FIFA Vice-President, thanked education workers for their hard work in delivering football programmes and touched on the importance of this for children's happiness and development.
The association's Director of Foundation Development, James Thompson, offered a broader overview of the strategy and pledged that by 2025 the foundation will endeavour to have 50,000 students playing football, including 10,000 girls and 2,500 students with disabilities.
Minister of Education Michelle McIlveen offered her endorsement via a pre-recorded video. She said: "Football is part of the social fabric of Northern Ireland and is a powerful force to engage children and young people and support their personal development."
Northern Ireland senior women's team player Sarah McFadden further supported the strategy. She insisted investment in schools "can not only create the best footballers but also the best students".
To read the Irish FA Foundation's Schools' Strategy please click here.
Schools' Strategy Launch Photos