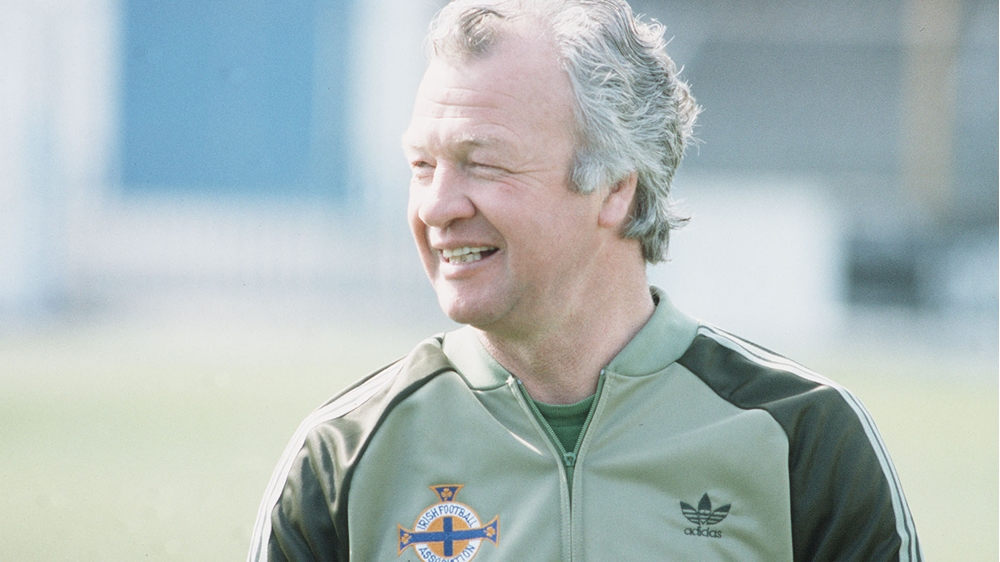 Cunningham Peacock, a contributor to Northern Ireland matchday programmes for many years, pays tribute to Billy Bingham, who sadly passed away on June 10, 2022. 
Cunningham writes: 
When I hear the name Billy Bingham, I do not immediately think of the shrewd and canny coach and smooth talker to the media. 
My first and foremost memory of the man is of a grey, misty afternoon at Windsor Park in October 1963. Scotland provided the opposition that day and all of us Northern Ireland fans were still smarting from what they had inflicted on us during their previous visit. 
In 1961 I watched in agony as a Scotland team inspired by Tottenham's amazing inside forward John White - today he would be called a playmaker - had torn our defence to ribbons and enabled Scotland to chalk up six goals. 
Indeed by 1963 the glory days of 1958 were very much in the past. Since 1959, when we had shared the British Championship with England and Scotland, our team had played 21 games with just two wins and two draws to cheer about. 
But suddenly there was Billy finding some space on the right, haring towards goal at the Railway End and firing a shot high into the roof of the net. Tottenham's double-winning keeper Bill Brown was left clawing at thin air. 
The roar from the home fans was mingled with disbelief. Could it be that our team was rediscovering how to win again? 
That Bingham goal was to be the last of the nine he scored in a green jersey, but it had set the scene for a famous victory over the Scots. And how appropriate that his total of nine goals should be shared by two later heroes of ours whom he coached to some success: George Best and Norman Whiteside. 
My second memory of the great man is his appearance on a BBC television programme looking forward to the World Cup in Spain in 1982.
As one would expect, the programme began with England and their chances of lifting the trophy and the gallant Scots with their star-studded line-up. The way in which the programme was slanted made me suspect that the Beeb were only featuring Northern Ireland as a tedious duty after dealing with the 'real' contenders for glory. 
Towards the end of the show Billy Bingham was interviewed by all-knowing pundit Jimmy Hill. I have a feeling that no love was lost between the two of them after many a fierce tackle on muddy pitches at Luton, Everton, Fulham and Coventry. 
My impression of the interview was that Hill was trying to undermine Billy's confidence with a snide comment. He implied that Northern Ireland had already 'won' their own World Cup by qualifying and were now going to Spain for a holiday. 
Billy's eyes flashed with suppressed anger. There was a hint of steel in his measured reply. "You know me better than that Jimmy," he said. My reaction was to leap off the sofa and punch the air. Under Billy's leadership the lads in green were not going to be rolled over by anyone!           
My third memory is something Billy wrote in his 1962 book 'Soccer With The Stars'. He recalled the atmosphere in the Luton Town dressing room half an hour before kick-off in the 1959 FA Cup Final.
He wrote: "I had never seen a happier, more relaxed, more confident bunch of players before any match of any importance." But he added: "At the back of my mind, though, was a nagging suspicion that something was wrong."
How right he was to be alarmed; very early in the game they were losing 2-0 and never recovered.
In his later career as a coach Billy never allowed his teams to be utterly relaxed before a game. He is famous for having observed the German superstar Karl-Heinz Rummenigge looking out at the then rather ramshackle Windsor Park on a wet and windy autumn evening in 1982 and showing by his grim expression that he did not relish the experience of playing there. 
Bingham rushed back to the home dressing room to tell Norman Whiteside, Sammy McIlroy, Martin O'Neill and the others about the dismay on the face of the visiting West Germany captain. 
"He doesn't fancy it," declared Billy. "Now let him know that you know he doesn't fancy it." Ian Stewart's goal chalked up a famous victory on that wet and windy evening. 
Now that the final whistle has sounded to end the life of our most successful manager, who featured in one World Cup as a player and two as a manager, we fans say thanks Billy. You will always be a legend.