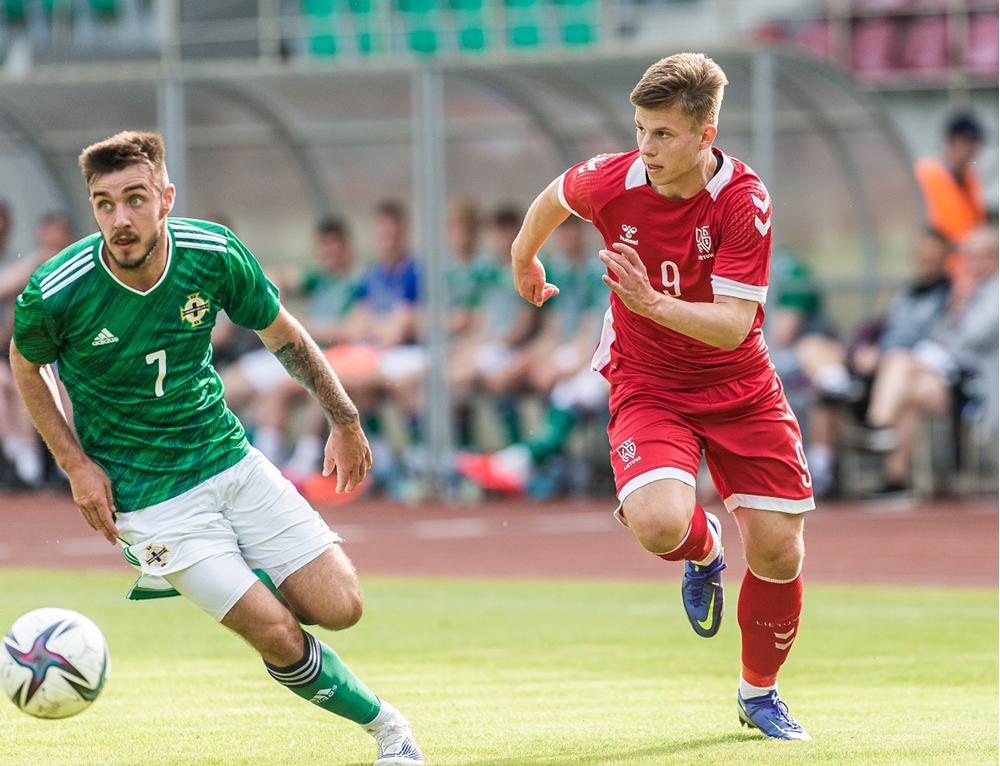 Northern Ireland U21s conceded a late goal to conclude their Euro 2023 qualifying campaign with a 1-1 draw away to Lithuania.
John Schofield's side had held the advantage for most of the game but were dealt a blow in the sixth minute of stoppage time and were forced to settle for a point from an encounter that they had done enough to win.
Despite an encouraging start to proceedings little was created in front of goal by either side.
That changed on 17 minutes, however, when Dale Taylor opened the scoring for Northern Ireland with what proved to be the first effort of note. A Barry Baggley crossfield ball was delivered to the left flank for Sean Stewart to knock on for Taylor to see off the presence of Vilius Armalas and roll into the bottom right corner.
Buoyed by this, John Schofield's side might have doubled their advantage midway through the first half when another Stewart ball was very timely cut out by Dennis Upstas just as Taylor was poised to pounce.
The visitors had another chance on the half-hour mark when, this time, Chris McKee laid the ball off for Taylor who again looked to bag his second of the afternoon only to see his effort deflected away for a corner.
Lithuania's only attack of the opening 45 minutes arrived soon after that when Armandas Kučys evaded Jack Scott but keeper Dermot Mee was alert with an outstretched leg to deal with the threat.
The hosts might have levelled around the hour mark after defender Artemijus Tutyškinas rose at the left post to get his head to Titas Milašius' corner only to direct the ball narrowly wide of the upright.
Lithuania threatened again on 75 minutes but Mee was out quickly to deny Deividas Dovydaitis before, from the loose ball, Oisin Smyth produced a diving header to thwart Tomas Kalinauskas - and the same player came close again not long after that only to flash the ball wide with the goal at his mercy.
Northern Ireland had two late chances to seal the victory. Substitute Ciaran McGuckin spotted keeper Gustas Baliutavičius off his line and attempted an audacious chip from outside the area on 86 minutes but could only strike the base of the post.
And five minutes into stoppage time another substitute, Newry City's John McGovern, found himself through on goal but Baliutavičius did enough to keep the ball out.
But then Lithuania hit with that sucker punch right at the end when, in something of a scramble, skipper Armalas flicked the ball across the six yard box for Tutyškinas to bundle the ball home at the far post.
Lithuania U21: Baliutavičius, Tutyškinas, Žebrauskas, Armalas, Jarusevičius, Milašius, Kučys, Uzėla, Ramanauskas, Gineitis, Upstas subs Kiriejevas (not used), Baltrūnas (replaced Upstas 46), Keršys (replaced Uzėla 80), Dovydaitis (replaced Jarusevičius 46), Zingertas (replaced Milašius 90), Kalinauskas (replaced Ramanauskas 46), Stankevičius (not used), Zabita (not used), Lubas (not used)
Northern Ireland U21: Mee, Donnelly, McClelland, Galbraith, Scott, Smyth, Taylor, Baggley, Stewart, McKee, Allen subs Walsh (not used), McCausland (not used), McGovern (replaced Taylor 75), Devlin (replaced Baggley 82), McCurry (not used), McGuckin (replaced McKee 81), Boyle (replaced Galbraith 81), Daws (replaced Scott 67)