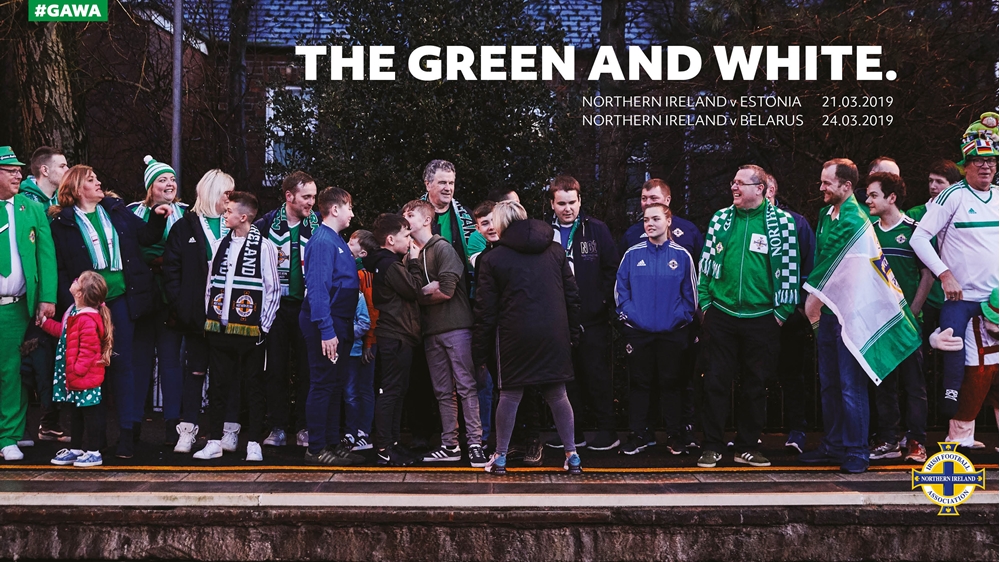 Ahead of the start of UEFA EURO 2020 qualifying, the Irish FA is putting the #GAWA at the heart of a new campaign which celebrates Northern Ireland fans and the colours that unite players and supporters – 'the green and white'. 
Fourteen bespoke artworks featuring fans of all ages have gone up on billboards around the country reflecting the broad range of support that Michael O'Neill's side attracts. 
The campaign will also feature video content from players, fans and celebrity supporters talking about how the colours – 'the green and white' - bring people together and how everyone can take pride in the Northern Ireland team. 

The #GAWA are renowned throughout the world for the support that they give the Northern Ireland team. They win awards, travel in huge numbers and create an unbelievable atmosphere. While the team will always be highlighted, it was felt that at the start of this campaign that it was right to showcase the unbelievable fans, and to celebrate the colours that unite supporters and the players – 'the green and white'.
Speaking about the campaign, Gary McAllister, Chairman of the Amalgamation of Official Northern Ireland Supporters' Clubs, said: "I am pleased that the Irish FA are leading with the fans at the start of this campaign. Over the past 20 years the colours green and white have been hugely important as supporters have helped transform the atmosphere at Northern Ireland matches. I look forward to seeing the artworks on advertising and in digital formats and I hope that they will help encourage even more people to back the team for the crucial games against Estonia and Belarus."