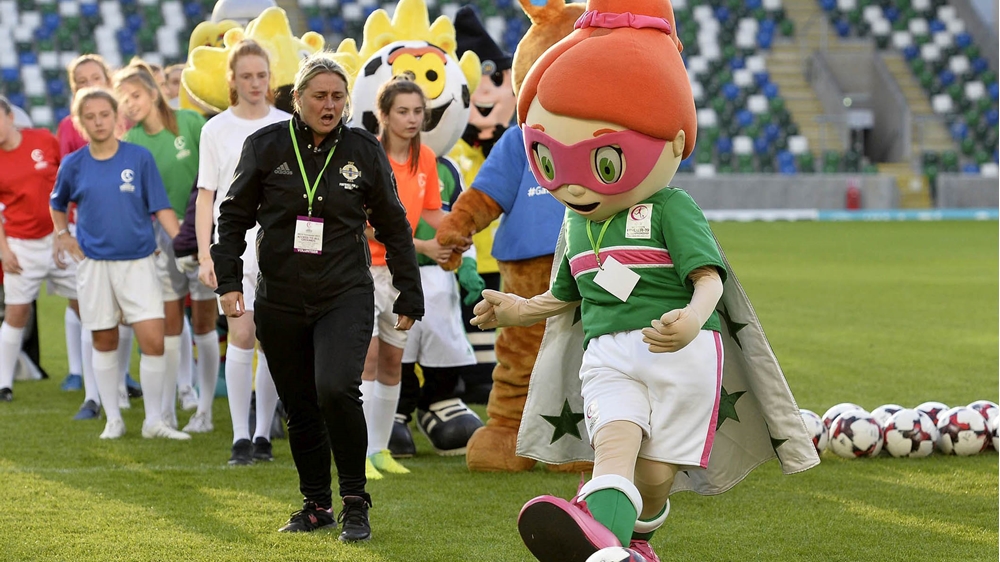 In an ongoing Q&A series we are highlighting the people who make the Irish Football Association tick.
Name: Jackie Blyth.
Job title: Irish FA Foundation Schools Officer.
How long have you worked for the Irish FA/Foundation? 
Ten and a half years.
What's your role within the association/foundation?
To promote and foster female participation in both primary and post primary schools across Northern Ireland.
Describe a typical working day for you.
I organise tournaments and events so that girls can come and play football matches. In the winter months we promote a lot of futsal events (indoor) to give the girls an opportunity to play. I also arrange 11-a-side junior and senior matches, leading to a Super Schools Day at the start of the summer which is a seven-a-side tournament held at Mallusk. 
What's the best thing about your job? 
It has to be watching players develop not only as a player but as a person. Football can make such a difference in someone's life. It really is great to watch the magic at work. 
What are the biggest challenges you face in your role? 
I struggle to keep my emotions in check when people say that girls and women can't play football. If they got involved then they would realise how good the women's game is. 
Being involved in grassroots football and watching the players in action would show them that it doesn't matter if you are male or female. It is the same game with the same principles and passion.
What are you most proud of?
It would have to be the Super Schools Day which takes place every June. To watch 1,400 girls come and play during one day is amazing. It is easily one of the biggest girls' sports events in Northern Ireland, and when you talk to the students they are always saying how good the day is and how much they enjoy it. 
Every year it is getting bigger and bigger, and there are more and more girls now playing for clubs. It shows something is working.
I am proud I have had a hand in the growth of women's and girls' football in Northern Ireland and it's great that participation levels are increasing. I am also proud of the Irish FA Foundation staff who help with the development of the women's game.
Where did you work – and in what roles – before you joined the Irish FA? 
I worked as the assistant manager in the Next store in Lisburn. That job taught me to multi-task and how to deal with people in a very busy environment. 
Are you/were you involved in football beyond your role with the association?
I have been playing over-30s football for the past couple of years. I have enjoyed the craic but I don't take it too seriously, which maybe annoys some of my teammates. 
Are you involved in any other sports?
No. I love watching and playing football. 
Where did your love of football emanate from? 
I have been a Chelsea fan since I was a kid. 
In terms of coaching I caught the bug when I did a Women Into Sport course with what was then Castlereagh Borough Council after I had my children. I thought it would help me in Brownies as I volunteered there. You had to do a Football Level 1 and a GAA Level 1 course as part of the programme.
IFA coaches Phil Melville and Sara Booth subsequently started giving me casual coaching work and it was then I realised that I really liked coaching football and decided to take it one step further by going to university. I was then a placement student under Alfie Wylie (National Women's Manager and Elite Performance Manager with the Irish FA) and eventually I got a job with the Irish FA.
What qualifications do you have? 
I have my UEFA B Licence (Part Two) and a foundation degree in sports coaching.
Who (if anyone) has provided inspiration for you during your career? 
It would have to be Angela Platt, the Sports Development Officer for Castlereagh Borough Council, who ran the Women Into Sport course. Angela saw that there was a need for such a course in the borough and, quite simply, that course changed my life. 
Angela is one of the smartest people I know. And that course didn't just change my life. It ran for two years and all 36 women who participated are now involved in sport in some shape or form. They include the likes of Marissa Callaghan, who captains Northern Ireland's senior women's team, and Ashleigh Cowan, who volunteers for Dungoyne FC.
Any other interesting facts about you that we should know?
I coached Emma McMaster when she was a young girl. It was on a programme called First Kicks and I've watched her progress closely since then. Emma, who captained Northern Ireland at the Women's Under-19 European Championships back in 2017, is now a member of the Northern Ireland senior women's squad, and I am so pleased for her. I like to think I set her on the road to success!
Image: Jackie Blyth with 2017 Women's U19 Euros mascot Sweet Caroline – attempting to break a world record for the number of penalties scored by mascots.