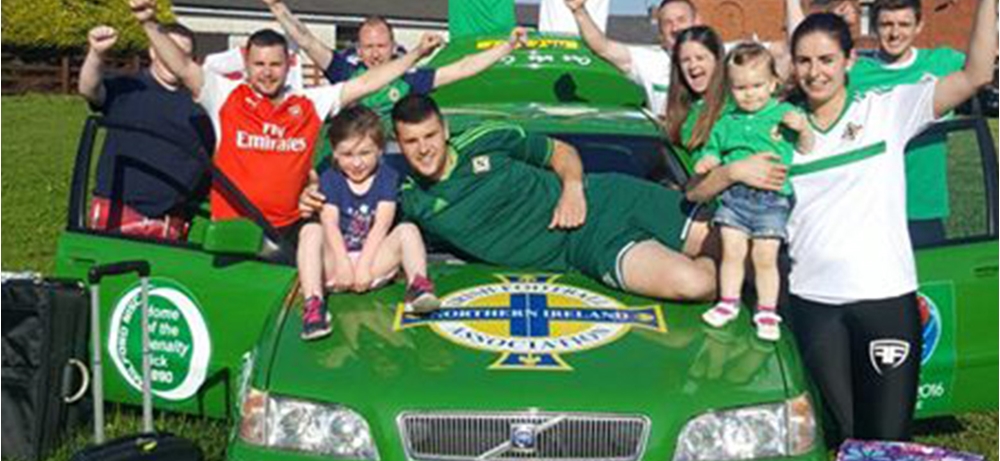 Milford man Philip Johnston was nominated to be our Fan of the Month for 

February by several members of the GAWA, including his twin sister. 
Philip Johnston set up Milford NISC in 2012 for close friends and family in Armagh which has now grown to be a thriving supporters club regularly attending games home and away. 
Twin sister Laura was one of the first to nominate Philip on our social media channels this month: 
"I think he deserves it because if not for him Milford would only be a little village outside Armagh that only the Armagh people knew about. He's Mr. Milford!
"Being Fan of the Month means the absolute world to him, he will be on a definite high. Only for him I wouldn't have got to go to different countries to watch NI play and experience some of the best memories i have with the GAWA."
One of Philip's key GAWA contributions in recent years was shining a light on creator of the penalty kick and fellow Milford man, William McCrum. This involved grave restorations and setting up a penalty kick competition in Milford to mark the 125th anniversary. 
Philip told us: "William McCrum, in 1890 came up with the penalty kick and it had almost been forgotten about only for our club promoting it. 
"The family grave where he is buried in Armagh city was in that poor of a state as it had been untouched for 80 years, we had to restore it straight away so we started fundraising for it and got it restored to its former glory with the help of the AONISC."
Ahead of Northern Ireland's trip to the EUROs in 2016, Philip even decorated his car to show his support. 
His sister Laura told us: "He makes each game a fun experience for everyone and goes to every match. Then came the euros, he spray painted his car green and got stickers made and this was the mode of transport for home games.
"Through all this, sorting every one with tickets for away games, home games, friendly games, working his own jobs and being the main carer for our dad he hasn't took any credit where it's been due and would still go the extra mile to help anyone in need."
Philip even met up the Men's Senior Team at the Culloden Hotel to show off his new GAWA transport. 
"When Northern Ireland qualified for the euros I took a notion to spray my car a mad green colour and put Northern Ireland logos and home of the penalty kick on it to again promote the penalty kick.
"We had it up with the Northern Ireland team just before the Euros and they all loved it and thought it was so funny. As you can see in some of the photos we had the team in, on top of and beside the car it was real good craic and the people of Milford village loved it."
It's clear to see Philip's passion for supporting Northern Ireland and he can't wait to roll back up to the National Football Stadium at Windsor Park in March for our double header against Estonia and Belarus. 
"I can't wait for the campaign to start again and to get all the club back together, we are all close family and friends in the club and it is a great occasion for us to get together and have a bit of craic before during and after the game."
You can see a gallery of images featuring Philip's efforts at the bottom of the page.