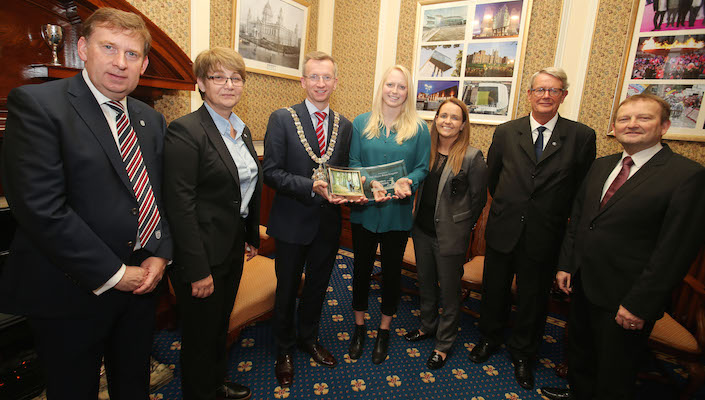 Guests at City Hall reception Belfast Lord Mayor, Alderman Brian Kingston hosted a reception at the City Hall with guests involved in the Women's International Cup under-19 football tournament.
Representatives from UEFA, England, France, USA and Northern Ireland were treated to the mayoral reception and a tour of Belfast City Hall.
All of the Lord Mayor's guests are involved in organising and competing in this week's women's under-19 tournament hosted by the Irish Football Association.
Round-robin games have taken place this week at Ballymena Showgrounds, Mourneview Park in Lurgan and Portadown's Shamrock Park, and the tournament concludes tomorrow at the National Football Stadium at Windsor Park in Belfast.
Irish FA President David Martin said: "The Women's International Cup has afforded us top quality competition in advance of next year's U19 finals and we look forward to Sunday's final series of games.
"Thanks to the Lord Mayor of the City of Belfast Alderman Brian Kingston who has kindly hosted this reception and tour, both of which will greatly enhance the reputation of Northern Ireland's capital city for our visitors."
Alderman Kingston said: "It is always a pleasure to welcome international guests to Belfast and when they are participating in and helping us to organise such a prestigious sporting event as the UEFA Women's U19 Championship Finals it is even more delightful.
"We hope that this and the many other sporting events which we look forward to hosting will encourage many people to get more active in sports and since women are one of our priority groups, being able to see and enjoy these international players should be inspiring," added the Lord Mayor.
Running from October 18-23, the U19 tournament is a key part of the association's preparations for hosting the UEFA Women's U19 Championship Finals in August 2017.
Further information about the Women's International Cup and the UEFA Women's U19 Championship can be found on the tournament's official website www.irishfa.com/uefawu19, the official Facebook page @UEFAWU192017 and official Twitter page @WU19EURO2017.