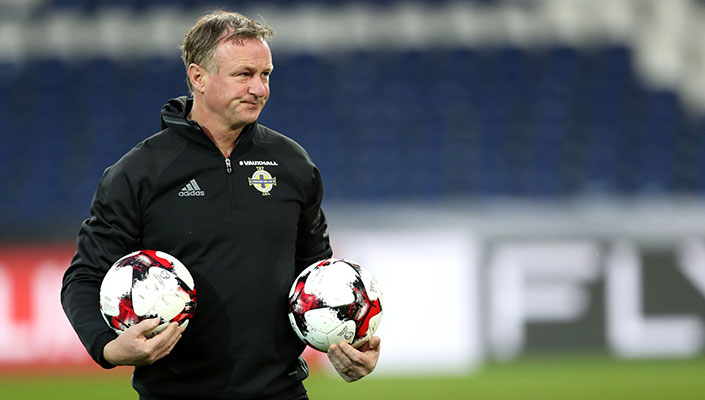 Northern Ireland manager Michael O'Neill and captain Steven Davis faced the media in Hannover today ahead of their 2018 World Cup Qualifier against Germany tomorrow night.
The team trained under floodlight in the HDI Arena this evening as they prepare to take on the world champions on their home turf.
O'Neill and his team are looking forward to the game and when questioned on whether the Northern Ireland team can enjoy the occasion, he said, "Of course we can, we're playing the world champions in a fantastic stadium and I'd imagine there'll be a huge crowd here, what's not to relish?
"At the end of the day the expectation doesn't lie with us, it lies with the Germans, they're the world champions, so we'll come here and it's a game where we have everything to gain."
Captain Steven Davis is relishing the task of once more coming up against German midfielder Toni Kroos, who completed more passes than anyone else at the tournament when the teams met in Paris.
Davis is well aware of the challenge that awaits in the centre of midfield tomorrow evening. Davis said: "He dictated the play very well that day, so we're going to have to be a bit better at stopping that tomorrow evening.
"They've got quality players throughout the squad that can cause problems but I think him in particular, the way he dictated the play started a lot of the attacks, finding balls between the lines, it's definitely something we've got to be aware of.
"I think we can come here and get a result without underestimating the task in hand."
Even though his team are firm favourites Germany manager Joachim Löw isn't taking the game lightly and is looking for a more clinical performance than the last time the teams met in Paris, when they were on the receiving end of a special performance from Northern Ireland goalkeeper Michael McGovern.
Löw said: "Northern Ireland are likely to sit very deep, crowd their box and it's of precious little use to play balls into the middle as they have very good players in the air."
The match in Paris, which is now famous for McGovern's goalkeeping masterclass and the incredible support from the Green and White Army is still fresh in the memory of Germany captain Mats Hummels.
In advance of the match Hummels conceded that the Northern Ireland team will have the edge when it came to the support: "We're looking forward to tomorrow's game. Northern Ireland as far as the fans are concerned have a huge advantage over our supporters in that we do not have a 'Will Grigg's on Fire' kind of song."