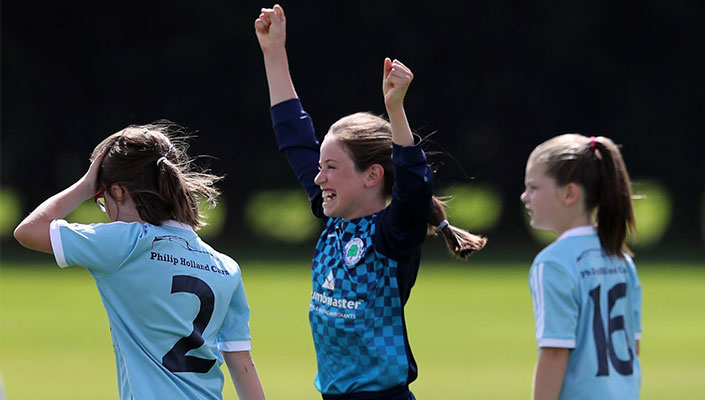 The Irish FA has revealed more young people are involved in football in Northern Ireland than ever before.
58,000 people aged between four and 24 are participating in the game now, up 16% from a year ago.

The increase comes at the end of the first year of the Irish FA's first ever ten-year youth strategy, 'Let Them Play', which was launched last September.

Significant areas of growth and development have been driven via Let Them Play in the Irish FA McDonald's Small Sided Games Centres (9,000 plus children involved on a weekly basis across 50 venues), the Irish FA DENI funded Curriculum Sports Schools Programme (18,000 plus children in over 200 schools) and the Irish FA's new Disability, Referee, Futsal and Girls' strategic plans.
Irish FA Chief Executive, Patrick Nelson said, "We believe in football for all and because of that we are investing more than ever before to develop and grow participation levels across the country.
"We are delighted to have had such a successful year and we look forward to growing the game with our partners in year two.
"Let Them Play is a long term strategy and we aim to have 75,000 young people playing the game by 2020 and 100,000 playing the game by 2025. These are ambitious targets but we are confident we can deliver with the support of schools, colleges, universities, clubs, volunteers and our partners."
International Manager, Michael O'Neill added, "It has been a great year for developing football for all across Northern Ireland.
"We hope our success competing at the Euros has inspired every child across the country to dream of wearing our famous green jersey.
"I would like to congratulate our Regional Grassroots Development Officers, Schools Coaches, Development Officers and Volunteers for all their good work delivering on the targets set in Let Them Play." 
Irish FA Director of Football Development, Michael Boyd concluded, "If we continue to broaden our participation base it can only be good for the long term health of the game.
"Let Them Play is working and the young people involved now will be our stars of the future, our future supporters, our future players, our future coaches, our future referees, our future volunteers, staff and administrators.
"We are an excellent delivery agent serving the community, getting young people active and producing positive citizens for Northern Ireland.
"A key priority as we look to the future is to develop the girls game more and to get more females involved at every level. We are also keen to develop our Irish FA Performance Schools and Academies, so we expect to see even more progress in these areas in 2017."