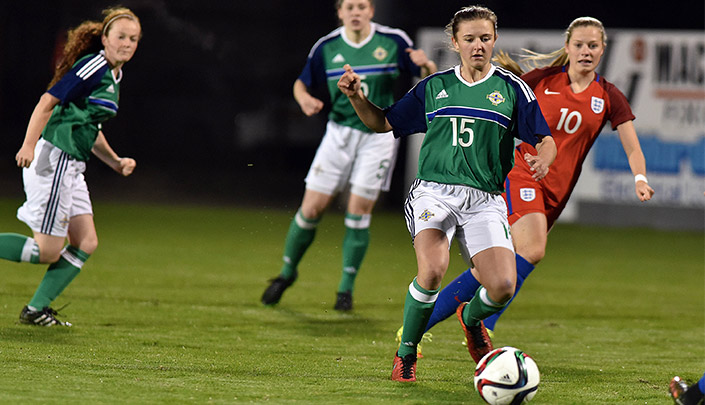 England's Women's Under-19s proved too strong for Northern Ireland at Shamrock Park this evening.
Three goals in a five-minute spell in the first half set England on their way to a comfortable victory in the teams' second matches in the Women's International Cup. The final score was 5-0 to the visitors.
England created several chances in the opening half hour and had a handful of shots from distance, however the Northern Ireland backline coped well with everything that was thrown at them.
But a couple of individual errors allowed England to take a firm grip on the game.
In the 37th minute Northern Ireland keeper Caoimhe Callaghan cleared a back pass straight to the feet of England striker Charlie Wellings who rounded her and slotted the ball into the net.
Two minutes later it was 2-0 when Wellings crossed to Lucy Shepherd inside the six-yard box and she tucked the ball home.
Wellings scored her second on 41 minutes when she collected a neat pass from Georgia Allen and coolly slotted the ball past Callaghan.
Centre back Teresa Burns was Northern Ireland's best performer in the opening 45 minutes. After a series of good challenges she really excelled on the stroke of half-time, preventing Wellings from claiming a hat-trick with a goal-line clearance after the England player had broken clear of the home defence and fired in a low shot from just outside the box.
Three minutes into the second half England got their fourth thanks to a cracking shot from Zoe Cross. The Northern Ireland defence failed to clear their lines and Cross nicked the ball off them before rifling it into the top corner of the net from 18 yards.
England increased their lead on 68 minutes with a screamer, Sian Johnson scoring with a peach of a strike from a direct free-kick on the edge of the penalty box.
Northern Ireland dug in well in the second period and restricted England to very few chances. Burns was again solid at the back and Yasmin White also put in a good shift in the backline. Unfortunately, as in their first Women's International Cup game against France (4-0 defeat) on Tuesday, they struggled to get forward throughout the 90 minutes.
Northern Ireland Women's U19's final game in the mini tournament is against USA at the National Football Stadium at Windsor Park on Sunday (4.30pm kick-off), while England take on France at the National Football Stadium on Sunday (12 noon start).
Northern Ireland: Caoimhe Callaghan, Courtney Moore, Lauren Robson, Emma McMaster (Megan Beattie 62'), Teresa Burns, Caitlyn Hamilton, Chloe Orr, Rebecca Bassett, Abbie Magee (Louise Crawford 80'), Yasmin White, Chelsea Cochrane (Isobel Coppel 85'). Substitutes: Kirsty McCaughtry, Lauren Currie, Chloe McGinn, Miagh Downey, Brodie Olive, Isobel Coppel, Louise Crawford, Megan Beattie, Morgane Beggs.
England: Sian Rogers, Lucy Parker, Grace Fisk, Chloe Kelly, Chloe Peplow, Zoe Cross, Georgia Allen, Samantha Tierney, Charlie Wellings, Sian Johnson, Lucy Shepherd. Substitutes: Sandy MacIver, Mayumi Pacheco, Mollie Rouse, Megan Finnigan, Rinsola Babajide, Charlotte Devlin, Danielle Brown, Kess Elmore, Rianna Dean.