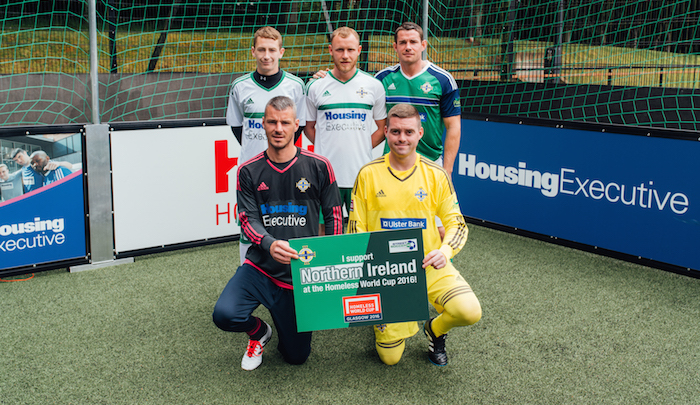 Street Soccer NI is keeping the summer football fever high as the Northern Ireland squad get ready for this year's Homeless World Cup in Scotland, with key support from the East Belfast Mission, Irish Football Association and Northern Ireland Housing Executive.
A special send-off has been arranged for this year's team, with the unveiling of a brand new portable pitch at Stormont Pavilion. Street Soccer NI in a partnership with East Belfast Mission, Northern Ireland Housing Executive and the Irish Football Association uses the power of football to transform the lives of homeless people. Together these partners provide free football on a weekly basis around the country for homeless people, long term unemployed, refugees and asylum seekers and people who suffer with alcohol or drug problems
Irish FA Director of Football Development and Chairman of Street Soccer NI, Michael Boyd, said, "Street Soccer NI is transforming lives through football, reaching some of the most vulnerable men in our society, using football as a hook for education and as a catalyst for positive change. The Irish FA is proud to support the Northern Ireland Homeless World Cup team and the Street Soccer NI project. Through Street Soccer we work hard with the players, we have fun and we make a positive difference".
With Scotland as its host this year, the 2016 Homeless World Cup kicks off in Glasgow on July 10 with Northern Ireland taking on Holland in their opening game. Aidan Byrne, from Street Soccer NI and East Belfast Mission, is looking forward to the tournament, saying; "Most of the focus is on the football, naturally, but there's serious work going on behind the scenes, tackling homelessness and providing our players with a secure future. Players who have passed through our previous squads have seen their lives transformed by the experience and many have found homes of their own and even full time employment. We're going to the Homeless World Cup to win and our preparations have been very good – this new portable pitch is a game changer for us and will allow us to reach even more vulnerable people across Northern Ireland."
After a family fallout, Brendan Kingsmore was homeless for eight years, up until the age of 25, spiralling into a world of substance abuse, self-harm and attempted suicide.
Now a Prince's Trust Ambassador, he captained Northern Ireland at the Homeless World Cup in Chile, South America, in 2014. Brendan said; "Since joining Street Soccer my life has had big changes. I've now got my own house, a full time job, a number of qualifications and I've been nominated for a Hero of Youth Award. I will take my IFA coaching badges through Street Soccer NI and will be at this year's Homeless World Cup as a coach – I'm very honoured and proud to attend."
At the launch of the portable pitch, a team of MLA's took part in a special kick about and wished the squad well with their World Cup preparations.
NIHE Director, Anne Sweeney, believes; "Homelessness is not a new problem, but reaching out to those affected through football is a modern and innovative way of tackling the issue.
"Our organisation has signalled its commitment to supporting the work of Street Soccer NI and we commend them for their excellent approach to dealing with homelessness – they really are changing lives for the better".
Irish FA Chief Executive Patrick Nelson wished the team luck for the World Cup, "The players are already winners in our eyes for committing to their Street Soccer NI employability skills and education programmes. On behalf of everybody at the Irish FA I wish them the best of luck and we hope they have the time of their lives."
This year's team has also been supported by; Belfast City Council, Ulster Bank, Choice, North Belfast Housing Association, Simon Community NI, Extern, Todds Leap, Playball, Salvation Army, and Browns Funeral services.
For more information, click online at http://www.streetsoccerni.org